Annual dog licences
As the owner of a dog, you must have a licence for your animal. You will receive a tag that must always be attached to the collar of your four-footed friend. The licence must be renewed every year. Have you decided to welcome a new dog to your home? You must get a licence within 30 days of its arrival.
Benefits of the tag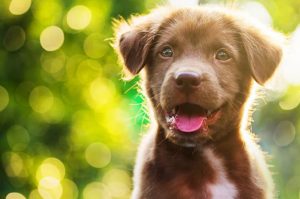 The identification tag, which is unique to each animal, shows the name of the municipality and a registration number and also includes an integrated microchip. Its many benefits allow you to:
Add and update your pet's digital profile with a photo, increasing the chances of finding it if it gets lost
Receive renewal notices
Track your pet's health file
Help adjust the city's services to meet the needs of pet owners, thanks to an accurate census of the animal population
APPLICATION ON RENEWAL ONLINE
Applications can be made using Emili – Animal manager.
Register with Emili – Animal manager.
Click the link you receive by email, which will lead you to your personal portal.
Complete the dog's profile.
The tag will be sent to you by mail.
APPLICATION ON RENEWAL IN PERSON
LICENCE VALIDITY PERIOD
Valid for one year from date of issue
PEOPLE WHO ARE VISUALLY OR MOBILITY IMPAIRED
LOST TAG
To get a new tag, you must apply on the Emili – Animal manager platform. You will be charged a $5 fee for a replacement tag.
FINE
The owner of an unlicensed dog is liable to a fine of $100 under the municipal by-law.
An administrative codification is a document that combines the original text of a by-law with all the amendments made since its adoption. It has no legal weight but is, rather, a tool created solely to make it easier to read and understand the by-law as a whole. Only the original by-law and its amending by-laws have legal weight.
Answers to your questions
Yes, having a licence and wearing the tag are mandatory under the municipal by-law. The tag must be on the animal's neck at all times, even if it always stays inside.

If you become aware of a dog in Châteauguay without a licence, you can contact the SPCA Roussillon. An inspector will investigate.

You can change your address online at Emili – Animal manager. When you move, your pet may be disoriented and try to run away. By updating your address quickly, you will increase the chances that your pet will be returned to you quickly if found, which is why it is important to keep the tag on at all times. It is also important to remember that a licence from another city does not replace the Ville de Châteauguay licence.

Yes, you need a licence. But when you present the Mira Foundation document certifying that the dog is in training, the licence will be free for as long as the animal stays with you.

No, your pet will keep the same tag for its entire life, unless you move to another municipality or lose it.

Yes, having a licence and wearing the tag are mandatory under the municipal by-law. The microchip should be considered an additional means of identification.
Do you need further details? Contact us!
You can contact us by phone at 450-698-3000

From Monday to Thursday, 8:30 a.m. to noon and 1:15 p.m. to 5:00 p.m.
Friday, 8:30 a.m. to noon

You can come to the reception desk at City Hall .

From Monday to Thursday, 8:30 a.m. to noon and 1:15 p.m. to 5:00 p.m.
Friday, 8:30 a.m. to noon
---
LEGAL DISCLAIMER
The texts and administrative codifications presented on this site do not replace the official by-laws of Ville de Châteauguay. They have no official weight. Although we make every effort to ensure that all the information is accurate and complete, we cannot guarantee its integrity, or that the information is current or accurate. In case of a discrepancy between the official text and the information published on this site, the official text always takes precedence. Ville de Châteauguay cannot be held responsible for errors or omissions of any nature on the site.