Chickens and Farm Animals
Farm animals are animals that are usually found in an agricultural operation and that are used in particular for reproduction or food or to help humans. They include but are not limited to horses, cows, pigs, sheep, chickens, roosters, ducks, geese, turkeys and goats.
Other than in agricultural zones, farm animals, including chickens, are prohibited in the urban environment.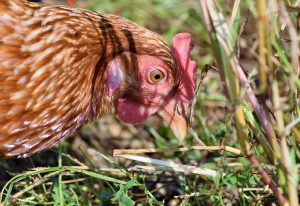 Study committee on raising chickens in the urban environment
In spring 2020, a municipal council set up a committee to study the possibility of allowing chickens to be raised in the urban environment. The project is currently in the study phase.
An administrative codification is a document that combines the original text of a by-law with all the amendments made since its adoption. It has no legal weight but is, rather, a tool created solely to make it easier to read and understand the by-law as a whole. Only the original by-law and its amending by-laws have legal weight.
Answers to your questions
The municipal council members have been informed of this request on the part of some residents and of the hesitation of others. To make an informed decision on the matter, a committee has been set up to study it.
Do you need further details? Contact us!
You can contact us by phone at 450-698-3000

From Monday to Thursday, 8:30 a.m. to noon and 1:15 p.m. to 5:00 p.m.
Friday, 8:30 a.m. to noon

You can come to the reception desk at City Hall .

From Monday to Thursday, 8:30 a.m. to noon and 1:15 p.m. to 5:00 p.m.
Friday, 8:30 a.m. to noon
---
LEGAL DISCLAIMER
The texts and administrative codifications presented on this site do not replace the official by-laws of Ville de Châteauguay. They have no official weight. Although we make every effort to ensure that all the information is accurate and complete, we cannot guarantee its integrity, or that the information is current or accurate. In case of a discrepancy between the official text and the information published on this site, the official text always takes precedence. Ville de Châteauguay cannot be held responsible for errors or omissions of any nature on the site.