Chickens and Farm Animals
Farm animals are animals that are usually found in an agricultural operation and that are used in particular for reproduction or food or to help humans. They include but are not limited to horses, cows, pigs, sheep, chickens, roosters, ducks, geese, turkeys and goats.
Other than in agricultural zones, farm animals, including chickens, are prohibited in the urban environment.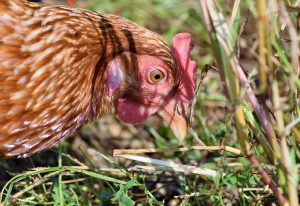 Pilot project Raising hens in the urban environment
As of June 1, 2021, Ville de Châteauguay is moving forward with a pilot project allowing hens to be raised in the urban environment.
A maximum of 100 licences will be granted for keeping hens in the territory. In order to be qualified, citizens interested in participating in the project must meet the following participation conditions and eligibility criteria:
Reside in a single-family dwelling (detached or semi-detached) and own a private lot with a minimum area of 350 square metres (3,767 ft2).
The cost of a licence to keep hens is $25.
Have a minimum of two (2) and a maximum of four (4) hens on private land. Possession of a rooster is prohibited.
It is forbidden to keep hens inside a house or cage.
The hens must remain permanently inside a hen coop with an outside enclosure (pen) so that they can roam freely.
Hens must remain inside the hen coop from  sunrise to sunset from 11 p.m. to 7 a.m.

The construction of a hen coop is mandatory.  It must be made of a 20 gauge wire (minimum size).
For the construction of the hen coop, participating citizens must apply for a building permit at a cost of $25 and attach the following documents to his or her application form:

The plan of the hen coop and its outdoor enclosure (pen);
A copy of the certificate of localisation including a sktech showing the dimensions and the location of the hen coop and the distance from the property lines.

Only one hen coop including its outdoor enclosure is authorized per lot and must be located in the back yard.

Minimum area of the hen coop
(including its outdoor enclosure «pen»)

Maximum area of the hen coop
(including its outdoor enclosure «pen»): 20 m2

Indoor of the hen coop: 0.37 m2 per hen
Outdoor enclosure (pen): 0.92 m2 per hen

Maximum floor area for the hen coop: 10 m2
Maximum area for the outdoor enclosure «pen»: 10 m2
Maximum height for the hole hen coop: 2.5 m

The hen coop and the outdoor enclosure (pen) must be located at least 2 metres from any property line (rear and side).
For the well-being of the animal, hens must benefit at all times from an appropriate hen coop, closed and well ventilated, sheltered from the sun and inclement weather and suit the cold season (such as isolation and heater)

The hen coop must be cleaned every day
All hens must have access to food and water inside the hen coop or access to a feeder and drinking trough protected from migrating palmipeds and wild animals (skunks, racoons, rats, etc.).
Food must be stored in rodent-resistant location

The sale of eggs from laying, meat, manure or other products derived from this activity is prohibited.
The slaughter of hens at home is prohibited. Slaughtering must be done by an approved slaughterhouse or a veterinarian, whether the meat of the hens is consumed or not by the owner.

Citizens interested in taking part in the pilot project must apply for a licence and permit as of the coming into force of the by-law on June 1, 2021. Citizens must apply directly with the City's Division inspection et permis.
An administrative codification is a document that combines the original text of a by-law with all the amendments made since its adoption. It has no legal weight but is, rather, a tool created solely to make it easier to read and understand the by-law as a whole. Only the original by-law and its amending by-laws have legal weight.
Answers to your questions
The municipal council members have been informed of this request on the part of some residents and of the hesitation of others. To make an informed decision on the matter, a committee has been set up to study it.
Do you need further details? Contact us!
You can contact us by phone at 450-698-3000

From Monday to Thursday, 8:30 a.m. to noon and 1:15 p.m. to 5:00 p.m.
Friday, 8:30 a.m. to noon

You can come to the reception desk at City Hall .

From Monday to Thursday, 8:30 a.m. to noon and 1:15 p.m. to 5:00 p.m.
Friday, 8:30 a.m. to noon
---
LEGAL DISCLAIMER
The texts and administrative codifications presented on this site do not replace the official by-laws of Ville de Châteauguay. They have no official weight. Although we make every effort to ensure that all the information is accurate and complete, we cannot guarantee its integrity, or that the information is current or accurate. In case of a discrepancy between the official text and the information published on this site, the official text always takes precedence. Ville de Châteauguay cannot be held responsible for errors or omissions of any nature on the site.