Wild Animals
A wild animal is an animal of a species that is not normally domesticated by humans and that generally lives in the forest or wild areas. Here is some advice about wild animals.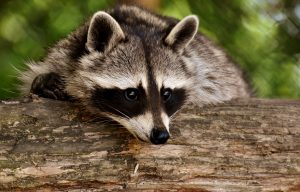 Small urban fauna inhabited our territory long before our arrival. It is important for us to learn to live in harmony with them. Tolerance may be the best solution if the losses are minimal. Here are some preventive methods to avoid attracting these little critters:

Avoid feeling wild animals.
Teach children not to approach wild animals.
Keep your pet food indoors.
Make sure you securely close your domestic garbage and compost bins.
Block access to your property, balcony, shed and kitchen garden.
Collect the fruit that falls from your trees, as it is an attractive source of food for animals.
During the evening and night, keep lights on outdoors. Most animals prefer the dark.

Pet safety 

Keeps your dogs leashed and only walk on groomed paths, as required under the municipal by-laws.

Keep your cats indoors, especially at night.

Relocation 

The relocation of small urban mammals far from their place of capture is used as a last recourse when the prevention methods listed above do not work. When an animal is relocated from an environment where it has found food and shelter and the food and shelter continue to be available, it is only a matter of time before another animal takes the place of the relocated animal. The root of the problem is not resolved, and the cycle is endlessly repeated.

If nothing works, you can rent a trap from the SPCA Roussillon, based on their recommendations. For questions about wild animals, please seek the advice of wild animal experts.

To maintain tranquility and security and respect your neighbours, it is prohibited to feed or authorize or tolerate feeding wild animals or placing food out to feed them, other than small birds.

Feeding squirrels and other animals is not always beneficial to them and may harm their health and cause dietary problems. They also become less fearful and therefore more exposed to danger, and they lose their autonomy. Some may bite and transmit diseases such as rabies. Finally, feeding them may contribute to overpopulation in some areas and encourage swarms or behaviours that are detrimental to the neighbourhood or to neighbouring buildings.

Suspended bird feeders for small birds are permitted. They must be animalproof against wild and all other animals. Tray-type feeders, where the food is simply scattered, are prohibited.

The number of feeders is restricted to three per property.

Bird feeders are allowed in side and back yards only and must be installed at least 2 metres (6.5 ft.) from the property lines.

Ville de Châteauguay is aware of the presence of coyotes in the territory. Coyotes have adapted very well to the urban environment, even though they are fundamentally afraid of humans. As they are naturally timid, they do not normally present any danger to humans. Since they are wild animals, however, certain rules should be followed to avoid having them become too familiar with humans.

What to do if you encounter a coyote 

Stay calm.
Give it the space it needs to run away.
Do not let your dog interact with it and keep your dog close or pick it up.
Do not approach the coyote and do not feed it.

If the coyote does not leave 

Make yourself look bigger by raising your arms.
Make noise or yell to scare it.
Back away, maintaining eye contact.
Do not run.
Dial 911 in case of emergency.
An administrative codification is a document that combines the original text of a by-law with all the amendments made since its adoption. It has no legal weight but is, rather, a tool created solely to make it easier to read and understand the by-law as a whole. Only the original by-law and its amending by-laws have legal weight.
Answers to your questions
Eliminate all access to food and water. This way, the animal will probably decide to move, since its environment will no longer be satisfactory. This is also the only way to ensure that another animal will not move in after it leaves. To prevent this situation, also block access to your property. The SPCA Roussillon website offers tips and advice on how to get rid of these little invaders. As a last resort, the SPCA also rents box traps to capture such intruders.
Do you need further details? Contact us!
You can contact us by phone at 450-698-3000

From Monday to Thursday, 8:30 a.m. to noon and 1:15 p.m. to 5:00 p.m.
Friday, 8:30 a.m. to noon

You can come to the reception desk at City Hall .

From Monday to Thursday, 8:30 a.m. to noon and 1:15 p.m. to 5:00 p.m.
Friday, 8:30 a.m. to noon
---
LEGAL DISCLAIMER
The texts and administrative codifications presented on this site do not replace the official by-laws of Ville de Châteauguay. They have no official weight. Although we make every effort to ensure that all the information is accurate and complete, we cannot guarantee its integrity, or that the information is current or accurate. In case of a discrepancy between the official text and the information published on this site, the official text always takes precedence. Ville de Châteauguay cannot be held responsible for errors or omissions of any nature on the site.