Public Pianos
Public pianos became part of the regional landscape in 2019.  These musical instruments were recovered and then decorated by Châteauguay artists and are enjoying a new life in various public venues. They are simply waiting for budding pianists and experienced musicians to come along and play their favourite tunes.  Throughout the summer, you can find pianos outside buildings and you can enjoy playing inside during the winter.
If it starts to rain, please stop playing and cover the piano with a tarpaulin sheet.
Where to find public pianos
Artist : Roger Thiffault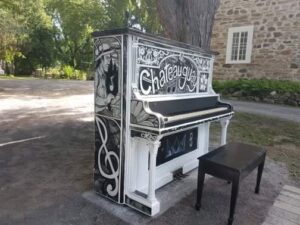 Artist : Stéphane Poirier
Artist : Hubert Rondeau-L'Écuyer
2021 season
Due to the COVID-19 epidemic, public pianos will not return until summer 2021 from 9 a.m. to 9 p.m. every day, depending on the temperature.
Shows
Guest pianists give performances on public pianos. Stay tuned for upcoming music shows!