Public Pianos
Come and play your favorite tunes on one of the three Châteauguay pianos!
Jusqu'à la mi-octobre
After an absence of more than one year, the great return of outdoor pianos for your pleasure! Do you like to play the piano? Pianos are now reinstalled outside in public spaces in Châteauguay. If you hear a piano while walking through the City , take the time to stop and try it out or just simply enjoy!
Chateauguay artists Stéphane Poirier, Roger Thiffault and Hubert Rondeau-L'Écuyer are the creators of the art that embellishes the pianos.
If it starts to rain, please stop playing and cover the piano with a tarpaulin sheet.
Where to find public pianos
Artist : Roger Thiffault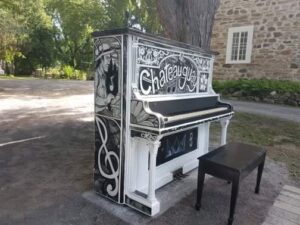 Artist : Stéphane Poirier
Artist : Hubert Rondeau-L'Écuyer
Shows
Guest pianists give performances on public pianos. Stay tuned for upcoming music shows!