Glen Currie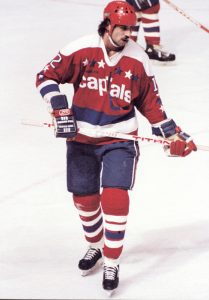 Induction text of Mr. Glen Currie into the Hall of Fame in the sports sector, athlete category in 2006.
Glen was five years old when his parents moved to Châteauguay. He started playing hockey at a very tender age and, in 1964, started his career by playing for local teams. Recognized as one of the best players in the region, he played for the Châteauguay Cougars, Zone 14 and H.S. Billings.
He and Michael Bossy were drafted at the same time by the Le National de Laval, in the Major Junior Hockey league. He had an excellent junior career, with over 106 goals and 187 assists, a performance that led to his being drafted 38th by the Washington Capitols in the NHL draft in 1978.
His professional career lasted for ten years, and he played for the Hersey Bears and New Haven Nighthawks in the American Hockey League and the Washington Capitals and Los Angeles Kings in the National Hockey League.
His greatest exploit was winning the "Emery Edge Plus and Minus" trophy, which was handed to him by the legendary Gordie Howe.
He still lives in Châteauguay and is the proud father of two boys who also played minor hockey in Châteauguay. He has been married to Cheryl, his greatest supporter, for the past 23 years.