Joe Pistilli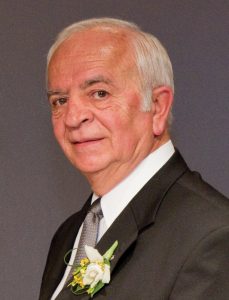 Induction text of Mr. Joe Pistilli into the Hall of Fame in the sports sector, builder category in 2011.
Joe Pistilli grew up in a family of three children with Italian parents. He is married to Stella and they have three children; the boys played football for many years. In 1963, Pistilli moved to Champlain Street in Châteauguay. For 36 years, he worked in the engineering department at Canadian National.
Just after his honeymoon, at the request of Robert Bisson, president of the Châteauguay Ramblers, Pistilli became involved with the team as a volunteer. He had no idea where that adventure would take him. He started as the announcer for local Châteauguay Ramblers games and then moved on to the positions of secretary, assistant manager and, in 1967, president of the Châteauguay Ramblers. In 1970, he was elected president of the Québec Junior Football League, a position he held for five years. In 1976, he became president of Football Québec and director of Football Canada. His responsibilities at the provincial and national levels did not put an end to his local involvement, however, and in 1989, he accepted the presidency of the Châteauguay Raiders. From 1992 to 2000, he served as president of Football Canada, and since 2006, he has volunteered as president of the Québec Junior Football League.
With this history and thousands of hours of involvement at all levels, it is not surprising that his efforts have been recognized by induction to the Canadian Football Hall of Fame and that he has been acknowledged by the Montréal Alouettes.
A man of passion and commitment.