Anna Laberge
A historical narrative of the life of Anna Laberge, produced in collaboration with the Société du Musée du Grand Châteauguay.
---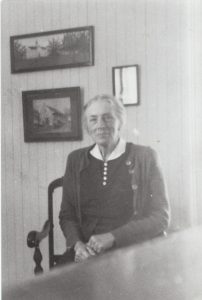 Born in Beauharnois, Anna Laberge received her education at the local convent. Like many other educated women from her era, she became a teacher in a one-room schoolhouse. She also taught in country schools, including the one in Rivière Saint-Louis. When she was living with her brother Alfred, in 1911, he contracted typhoid fever and Anna gave up teaching to stay at his bedside. Her attentive ministrations led the doctor to encourage her to try her hand at another traditionally female occupation, homecare nurse. She courageously returned to her studies at the age of 29, at the Miséricorde obstetrics hospital in Montréal. With her independent spirit, she turned many of the nuns against her because she resisted rules she found oppressive. Despite this, she earned her degree from the Collège des médecins in 1915 with a specialization in midwifery. Since the nuns more or less had a monopoly on nursing jobs, lay nurses had to work privately, and Anna accepted many contracts to care for sick people in the four corners of Québec. It was her true calling, and her patients' recoveries helped build her reputation. She enjoyed working on difficult cases despite the poor compensation. Fatigue always weighed on her, however, and she developed tuberculosis. She spent several months in the sanatorium at Sainte-Agathe-des-Monts.
Even after she recovered, her health was fragile and she had to change careers. She found a job as a laboratory technician for the provincial hygiene service in Montréal. Research work suited her well, and she greatly admired the scientist Louis Pasteur. Her mother then fell ill, and Anna left a promising career to care for her, in Melocheville. The construction of the Beauharnois canal forced the family to move, and she set up home in Châteauguay for nearly 50 years, at 59 Rue Principale. She led a somewhat solitary and even reclusive life, with her brother Raoul, which did nothing to quell the gossiping of the neighbours. She did a lot of domestic tasks, eventually losing an eye while chopping wood. A nature lover and even an ecologist before the term was coined, she cultivated flowers, fruit trees and vegetables of all sorts, some exotic or rare, with the help of her honeybees. She found the energy to read for about eight hours a day: poetry, national history, philosophy and literature. She had a deep interest in heritage and kept local antiques for her friend, eminent ethnologist Robert-Lionel Séguin. She also cultivated another passion: genealogy. The genealogy of the Laberges was published before she turned her attentions to her matrimonial line, the Boursiers and the Reids. Once again she travelled to the four corners of Québec. Having inherited her fervent Roman Catholic faith from her father, she regularly financed missions to Africa and Peru, rather than supporting the Parish of Saint-Joachim, which set her at odds with the parish priest. Headstrong and traditionalist, she fought against the reforms stemming from the Second Vatican Council. She was saddled with nicknames based on her strong character – odd, standoffish and even cantankerous – and spent her final years at the Foyer de Châteauguay seniors' home, where she died, penniless, at the age of 98.
A few dates
February 8, 1884
Birth of Anna Laberge in the Saint-Clément parish in Beauharnois, on Rang Sainte-Marie, where her parents had a farm.
1911
Withdrawal from teaching to care for her sick brother.
1913-1915
Studies to become a nurse.
1915-1923
Career as a homecare nurse and midwife.
1923
Stricken by tuberculosis.
1924-1928
Career as a laboratory technician.
1930
Arrival in Châteauguay-Village. The Anna-Laberge house is purchased in fall 1931.
1952
Bust of Anna Laberge sculpted by Alfred Laliberté.
1958
Aged 75 and recovering from a fractured hip, Anna travels to Europe to visit a fellow nun in Mauléon.
April 9, 1982
Anna Laberge dies at the age of 98.
1988
Inauguration of the Anna-Laberge hospital.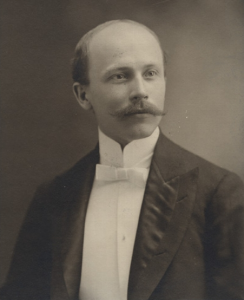 Anna's older brother, Albert Laberge, attended the literary college in Montréal where he became friends with Émile Nelligan. He published La Scouine, a novel that recounts daily life in Beauharnois at the turn of the 20th century.
Having become part of the cultural scene in Montréal, Albert introduced his sister to the famous sculptor Alfred Laliberté, who observed her for an entire afternoon, barely addressing her. A short while later, she received a bust of herself, crafted by the master.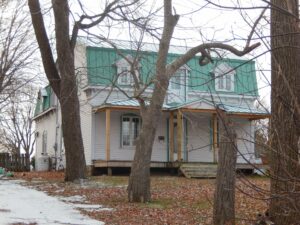 ---