Annie L. Jack
A historical narrative of the life of Annie L. Jack, produced in collaboration with the Société du Musée du Grand Châteauguay.
---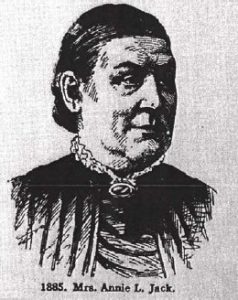 From England to America
Born on January 1, 1839, in Northamptonshire, England, Annie Linda Hayr immigrated with her father to Troy, a town in the state of New York, in 1852. She completed her studies at the Troy Female Seminary (now Emma Willard School). Her aptitude for studies and teaching were quickly noted. She regularly assisted her teachers and was appointed as first assistant at the age of 16. Her taste for writing was already obvious when one of her school compositions was published in the Troy Daily Times.
Châteauguay-Bassin
Around 1858, she settled in Châteauguay-Bassin, where she found employment as a governess. She met Robert Jack, a fruit farmer of Scots origin, whom she married on June 13, 1860, at the Episcopal church in Edwardstown (now St. Matthew's Anglican church in Saint-Chrysostome). The couple set up home on a 240-acre property purchased earlier by Robert's father, where they operated a farm they called Hillside. A clause in the marriage contract stipulated that one acre of the family land was to be devoted to crops of her choosing and that the resulting profits were to be hers alone.
Annie Jack gave birth to 12 children, 11 of whom survived to adulthood. She educated them at home as well as taking care of her crops. Under her influence, many fruit trees, vines and shrubs were planted at Hillside and a greenhouse was built attached to the house. This turned out to be a wonderful place to grow the flowers, fruits and vegetables she supplied to shopkeepers in Montréal and the surrounding areas. In 1876, over 1,000 apple trees were planted on the family land. A few years later, the Jacks were exporting apples to England. By the 1890s, the Jacks were selling all kinds of fruit trees, plants and shrubs.
Literary contributions
Jack shared her extensive gardening experience and provided helpful horticultural advice in a column called "A Woman's Acre" in The Rural New Yorker magazine and, later, from 1989 to 1903, in a column called "Garden Talks" in the Montreal Daily Witness newspaper. From 1877 to 1890, she was a regular contributor to the reports of the Montreal Horticultural Society and Fruit Growers' Association. She also contributed regularly to the Canadian Horticultural Magazine (1897–1899) and Canadian Horticulturalist (1901–1910), as well as writing many articles for American publications such as the Waverly Journal and Wide Awake (Boston), Good Cheer (Greenfield, Massachusetts) and Harper's Young People (New York). Jack also published poems and short stories, some of which, about the life of a French-Canadian farmer, are collected in a book called The Little Organist of St. Jerome and Other Stories of Work and Experience, published in 1902.
In 1903, she published the book she is most famous for, The Canadian Garden: A Pocket Help for the Amateur. It was the very first Canadian book on gardening and the only one available on the topic before the First World War. Annie L. Jack was the very first Canadian professional horticultural author. Acknowledged and respected by her peers, her reputation was nevertheless greater on the US side of the border than on the Canadian side. She died in Châteauguay on February 15, 1912, at the age of 73, and is buried in the St. Andrews Presbyterian cemetery.
A few dates
1839
Birth in Northamptonshire, England.
1852
Immigration to the United States with her father.
1858
Arrival in Châteauguay-Bassin.
1860
Marriage to Scottish fruit farmer Robert Jack.
1882
Member of the Montreal Ladies' Education Association (1882–1883).
1890
Started exporting apples to England.
1895
Named an honorary member of the Montreal Women's Club.
1898 à 1903
Publication of "Garden Talks" in the Montreal Daily Witness.
1900
Death of her husband, Robert Jack.
1902
Publication of her first book: The Little Organist of St. Jerome and Other Stories of Work and Experience.
1903
Publication of The Canadian Garden: A Pocket Help for the Amateur.
1910
Second edition of The Canadian Garden.
1912
Death of Annie L. Jack, on February 15, in Châteauguay-Bassin.
Hillside
The Jack family's land, Property 17, was on the eastern bank of the Châteauguay river. The Jack house, built around 1835 by John Jack (Annie Jack's father-in-law), is still standing at 36 Rue Smith and is part of Châteauguay's built heritage. In 1897, American Women, a comprehensive encyclopedia of the achievements of American women during the 19th century, describes Hillside as "one of the landmarks of the Dominion of Canada," a farm house with "comfort, refinement and luxury, with art, music, flowers and education quite as much at command as in the crowded towns." Her gardens, which attracted many visitors, were described by renowned American horticulturalist Liberty Hyde Bailey as one of the most original gardens he knew.
Loyal Janet
In the 1880s and early 1890s, under the pen name "Loyal Janet," Jack wrote a popular series of articles about social topics for the Montreal Daily Witness.
Loss of a child
In 1872–1873, two of Jack's poems were published in the Montreal Daily Witness, one of which evokes the death of a child, likely in reference to the loss of her son Ernest Clark in 1872 before his first birthday.
Influence
John George Jack, her eldest son (1861–1949), dedicated his life to studying plants, seeking out new species and developing hybrids. He became an assistant professor of dendrology at Harvard University's Arnold Arborteum. A rare but naturally occurring hybrid of the white oak and the swamp white oak was named the Jack Oak (quercus x jackiana) in his honour.
On June 24, 1908, at Macdonald College, a group of naturalists founded the Quebec Society for the Protection of Plants (QSPP). There were just 15 people present, one of whom was Jack's son Norman Emerson Jack. He and his brother Stanton Robert Jack were members of the Pomological and Fruit Growing Society of the Province of Quebec.
Two of Jack's daughters married a renowned apple farmer, Peter Reid. First Mary and then, after Mary's death, her sister Ruth took his hand in marriage.
---