Charles Le Moyne
A historical narrative of the life of Charles Le Moyne, produced in collaboration with the Société du Musée du Grand Châteauguay.
---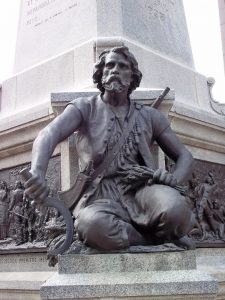 The owner of the Seigneury of Châteauguay in the 17th century, Charles Le Moyne was born in Dieppe, Normandy, on August 2, 1626. At the age of 15, he embarked for New France and worked for the Jesuits in Huronie, where he learned the Huron and Algonquin languages.
Ville-Marie
He settled in Ville-Marie in 1646. In this outpost still under threat from the Iroquois, his love of combat and his skill as an interpreter gave him the opportunity to distinguish himself repeatedly and he was granted the position of storekeeper for the fort in 1651. He developed his knowledge of trade and made a fortune through the fur trade with the Indigenous peoples.
In recognition for his services, the feudal lords granted him extensive lands in Pointe Saint-Charles and a property near the Hôtel-Dieu hospital. That property, at the northwest corner of Rue Saint-Paul and Rue Saint-Sulpice, served as home and trading base for him and his brother-in-law, Jacques Le Ber, a merchant and the future Lord of Senneville. In 1668, for his extensive services to the Crown as an interpreter for Indigenous peoples and in defence of the colony, Le Moyne was given letters of nobility and a coat of arms.
Acquisition of seigneuries
In 1657, he acquired part of the Seigneury of La Citière, and in 1665 he added Île Sainte-Hélène and Île Ronde. On September 29, 1673, Frontenac granted him the Seigneury of Châteauguay, and he acquired the fief of Île-Perrot in 1684.
Expeditions to Iroquois territory
After he took part in many expeditions to Iroquois territory to offer his services as an interpreter, he was summoned to discuss the best policy for dealing with the Iroquois threat. In 1683, Governor de La Barre recommended him for the position of Governor of Montréal.
Death
Le Moyne died of an illness in 1685. His widow, Catherine Thierry dit Primot, took over his business and partnered with trader Antoine Pascaud until her own death in 1690. She and Le Moyne had two daughters and twelve sons, almost all famous, and many of whom died in combat. The most illustrious was Pierre Le Moyne d'Iberville, founder of Louisiana.
Seigneury of Châteauguay
Charles Le Moyne de Longueuil and his eldest son, Charles II, first Baron of Longueuil, owned the seigneurial fief of Châteauguay from 1673 to 1706. During this period, other than the construction of a small fort (45 feet long by 22 feet wide), a small chapel (1683) and a windmill (1686), very little was done to develop the land. Did their many other occupations cause them to neglect the seigneury of Châteauguay? Ten years after land was granted to them in 1683, the population census still showed that just two families and six other people lived there. On August 6, 1706, Charles II, Baron of Longueuil, sold the seigneury to Zacharie Robutel, Sieur de la Noue, a cousin of his by marriage. In 1724, 60 years after being granted to Le Moyne, the land had just 26 censitaires or tenant farmers. Despite this, Charles Le Moyne – soldier, interpreter, trader and lord – was one of the most striking figures of New France.
A few dates
1626
Birth of Charles Le Moyne, son of Pierre Le Moyne, innkeeper, and Judith Du Chesne, in Dieppe, Normandy.
1654
Marriage in the parish of Notre-Dame in Montréal to Catherine Thierry, adopted daughter of Antoine Primot and Martine Messier.
1654
Paul de Chomedy, the Sieur de Maisonneuve, grants Le Moyne 90 arpents of land, known since that time as Pointe Saint-Charles, and a property on Rue Saint-Paul, where he lived for 30 years.
1657
Acquisition of part of the massive Seigneurie de La Citière.
1648-1666
He is one of the top military officers of the small village of Montréal, engaging in constant skirmishes with the Iroquois.
1672-1676
The titles for his seigneury Longueuil are confirmed and enhanced. On 1673, he receives a land grant in Châteauguay. In 1676, Le Moyne combines all his fiefs under the name Longueuil.
1679
Acquisition of the fief of Boisbriand, called Senneville, with his brother-in-law and trading partner Jacques Le Ber.
1684
Purchase of the fief of Île-Perrot.
1685
Death in Montréal, at the age of 58. Buried in the crypt of Notre-Dame Basilica in Montréal.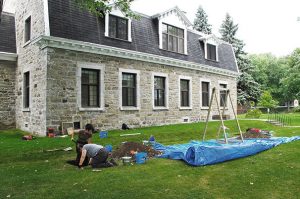 Archaeological research carried out in the summer of 2015 by the Université de Montréal archaeological field school discovered the foundations of the manor built for Charles Le Moyne. Further digs are planned.
(Photo: Dominic Gendron)
…& Providence, which was protecting Villemarie, provided it, under the circumstances, with considerable assistance in the gift It made of a skilful interpreter of the Iroquois language, who rendered the most signal services and even brought fame to the country: we are speaking of Charles Le Moyne. Until then Villemarie had no interpreter adept enough to negotiate with the Iroquois…
Translation of an excerpt of Histoire de la colonie française en Canada,
Tome II, VILLEMARIE, Bibliothèque paroissiale, 1865, pages 53–54.
---