Joseph Allard
A historical narrative of the life of Joseph Allard, produced in collaboration with the Société du Musée du Grand Châteauguay.
---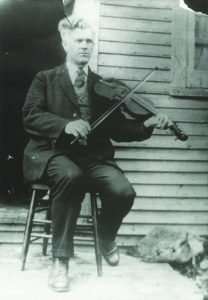 Joseph Allard, son of Louis Allard and Esther Duranceau, was born1 on July 1, 1873, and baptized two days later at Saint-Joachim Church. He started playing violin as a small child, thanks to his father, a fisherman who was a fiddler by night. It is said that by the age of 9, Joseph was already playing tunes with his father. At 16, he decided, like many French-Canadians, to try his luck in the United States, in New England, in the hopes of developing his art and finding work. Luck smiled on him, and he found work as a musician but also in the commercial fishery, where he worked as a net mender, weaver and carpenter. Allard continued to play the fiddle, which put him in the company of excellent musicians of American, Scottish and Irish backgrounds. These gatherings allowed him to expand his repertory of traditional tunes of various origins and develop his virtuosity and unique style.
A renowned musician
By the age of 25, he had already played in many competitions and made his mark by winning several fiddling championships (Massachusetts, New Hampshire, Rhode Island and Connecticut). His reputation grew, and soon he was said to know over 2,000 reels by heart!
During his stay in the United States, on May 15, 1894, he married Alexina Couillard, also from Châteauguay, and started a family. In 1907, he returned to live in Montréal and took part in several competitions where he also often won first prize. Two years later, Allard went back to the United States, where he was in great demand to play violin for dance parties and galas. On March 31, 1912, his wife died in childbirth, along with the child she was carrying, in Providence, Rhode Island. A few short months later, on November 16, 1912, Allard married Joséphine Caissie, an Acadian musician. He returned to Québec for good in 1917, settling in Saint-Pierre-aux-Liens (Ville Saint-Pierre). His wife died shortly after, in October 1918, in Châteauguay. He continued to play and take part in competitions all around eastern Canada and the northeastern United States. He won many competitions in and around Montréal and finished second in the prestigious competition in Lewiston, Maine, in 1926, where he represented Canada. For four years, from 1927 to 1931, Allard taught his repertory and style to a musician later known as Ti-Jean Carignan, who bicycled every evening from Pointe-Sainte-Charles to Saint-Pierre-aux-Liens to learn from his mentor.
Recordings
In Québec, for a good dance, a fiddler was indispensable but sometimes hard to find, because they were in great demand. The invention of the record allowed anyone with a gramophone to enliven their parties regardless. It was at this time that RCA Victor approached Allard, one of the most respected traditional musicians in Québec, to get him to record his music under the Blue Bird label, from 1928 to 1930. His success was instantaneous, and the music of the man introduced as the "Prince of Fiddlers" spread rapidly to the four corners of Québec, further raising his renown.
Allard travelled all over the province to play at dances and other events. He spent part of his free time with his friends, Kahnawake guitarist Fidel (Frank) Laforge and tap dancer Ti-Louis Aquin. He continued to pass on his repertory and make recordings, sometimes under the pseudonym Maxime Toupin, until 1945. Although he recorded over 75 78-RPM albums, he did not make enough money through his art to support his family.
He died poor and almost forgotten in Châteauguay on November 14, 1947, at the age of 74. He was laid out at his daughter Esther's house in Châteauguay and buried in the Saint-Joachim cemetery, in the plot of a family member, without even a tombstone to honour his memory. Today his repertory is considered the foundation of what any good traditional musician should know.
---
1 Joseph Allard was born in Woodlands, a hamlet in the territory of old Châteauguay. Bellevue and Woodlands separated from old Châteauguay in 1914 to become Ville de Léry.
---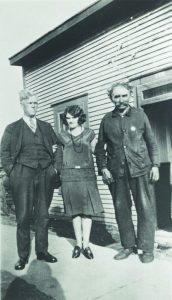 Joseph Allard (left) with his daughter and a friend in 1930.
The Joseph Allard style
Allard had a light touch, flexible bowing style and remarkable fingering. Unlike most Québec fiddlers from his time, his style did not make extensive use of double stringing but was more similar to the Irish style. He made greater use of melodic ornamentation such as triplets, grupettos and appoggiatura.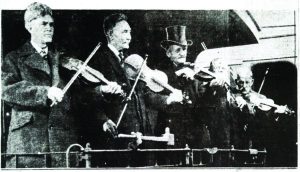 Joseph Allard (far left) was one of five fiddlers chosen to represent Québec at the international competition in Lewiston (Maine) in April 1926. In the photo (left to right): Joseph Allard, Johnny Boivin, A.-S. Lavallée, Médard Bourgie and Ferdinand Boivin.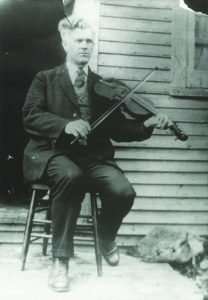 Anecdotes
It is the Reel de Châteauguay that was playing in Jos Malterre's inn in the radio drama Un homme et son péché.
The Hanged Man's Reel is one of the best-known reels. Its origin is old but also hazy: it was supposedly composed over 200 years ago by a man condemned to hang over an out-of-tune violin. The oldest known version is the one recorded in 1928 by Allard, and that is still the one most widely played today.
Several pieces of his repertory believed by some people to be Québecois are actually adaptations of American or Irish tunes to which Allard gave a French name.
Ville de Châteauguay named a park on Boulevard d'Youville, on the edge of Lac Saint-Louis, in Allard's honour, to mark the 50th anniversary of his death.
---