Lucille Desparois (Tante Lucille)
A historical narrative of the life of Lucille Desparois, produced in collaboration with the Société du Musée du Grand Châteauguay.
---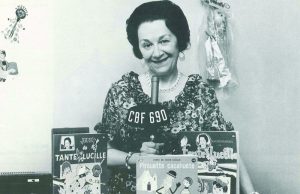 A short history
The daughter of a blacksmith, born on March 15, 1909, Lucille Desparois is an important literary figure in Québec, widely known as a children's author. She was a striking personality in the local history of Châteauguay, fondly known as "the mother of all the world's children." Nicknamed Tante Lucille, she led a long career that nourished the childhoods of many a Québecer.
Until the age of 14, Desparois lived in Châteauguay in her parents' home on Rue Principale, near Saint-Joachim Church. After elementary school studies at the convent of the Sisters of the Congregation of Notre-Dame (now city hall), she pursued further studies at Académie Bourget. Her love of poetry and language continues to flourish and she enrolled in the Conservatoire Lassalle to specialize in diction and the dramatic arts. Meeting renowned actor and dramatic arts teacher Jeanne Maubourg gradually awakened Desparois's vocation as a storyteller.
For many years, she worked as a secretary for the government while contributing to Montréal radio stations and newspapers. Far past childhood herself, she nevertheless spent time at the Hochelaga library, the first children's library in Montréal, with her niece Micheline Quesnel. It was then, likely through contact with the fantastical worlds of childhood, that Tante Lucille came to be.
Her first collection, Tante Lucille raconte, was published in 1943 by Granger Publishing. From 1945 to 1947, seven more volumes followed the first. In 1948, Radio-Canada asked the prolific author to host the Saturday morning program Le coin des jeunes, which was promptly named Tante Lucille on renewal. That program ran for 27 years, making its mark on the history of Québec, and still today many people recall its extraordinary star.
Thanks to her knowledge of Québec folklore and fairy tales, Tante Lucille played with stories familiar to the collective imagination by adding a personal touch, inspired by the countryside and her childhood. For example, in her stories, Hansel and Gretel are not charmed by a gingerbread house but by the berries of the Strawberry Fairy on Île d'Orléans.
Her fertile imagination, her sense of pedagogy and her open-mindedness allowed her to hone folklore to young audiences and help keep old tales alive. Her death on October 21, 1996, left a gaping hole, but she will be remembered for her enviable career and her bottomless enthusiasm. Buried here in Châteauguay, she is now resting with her parents in the Saint-Joachim parish cemetery.
A few dates
March 15, 1909
Birth of Lucille Desparois.
1936
Desparois receives her diploma from the Conservatoire Lassalle.
1943
Publication of her first collection.
May 8, 1948
First episode of her program on Radio-Canada.
May 15, 1956
Marriage of Desparois and Gérald Danis.
1970
Deparois receives the Order of Canada Medal of Services and is made an Officer of the Order three years late.
March 31, 1974
Last episode of her program on Radio-Canada.
1976
The Académie internationale de Paris grants her a trophy for her recording of the Contes et chansons de Tante Lucille.
July 1, 1985
Desparois receives an Award of Merit from the Canadian Citizenship Court in recognition of her contribution to children's literature.
1990
Death of her loyal illustrator, Paul-Marcel Martin. This put an end to her career as a storyteller.
1990
Hospitalization for health problems.
October 21, 1996
Death of Lucille Desparois.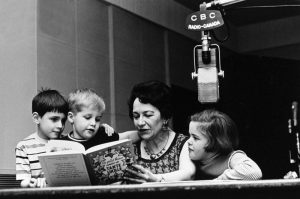 (Photo: Radio-Canada archives)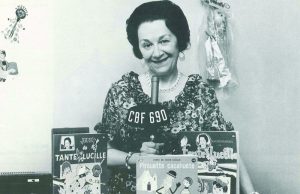 Her childhood in Châteauguay made a profound impression on Tante Lucille's imaginary world. Desparois talked about this period of her life with a lot of emotion and said, of her childhood: "Our best memories are about our childhood, where everything was new and magnificent for our youthful intelligence that was opening up to life… I still fondly remember my early years, on the banks of the Châteauguay river."
Desparois's childhood home, at 43 Rue Principale, was built by Arthur Desparois in 1800. A storey was added around 1900. Over the decades, this building has served as a post office, a smithy and a hotel. Currently, the ground floor is occupied by a hair and beauty salon.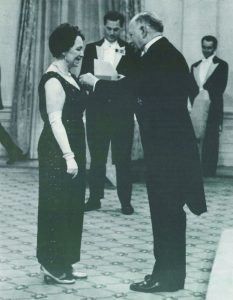 In 1970, Desparois received the Medal for Services from the Order of Canada.
By way of her paternal great-grandmother, Desparois is a descendant of Philippe Joseph Aubert de Gaspé, lawyer, writer and Lord of Saint-Jean-Port-Joli, born in the 18th century and widely known for his novel Les anciens Canadiens, one of the first Québecois novels.
Desparois's fairy tales have circled the globe. The Dutch publishing house Mulder & Zonn published her stories in no fewer than nine languages. Even blind children have been able to read some of her tales in Braille.
Desparois married Gérald Danis in 1956, at the age of 47. She was thrilled with this later-in-life relationship, although the couple had no children. In an interview for Magazine des Vedettes, she offered this recollection: "When I met Gérald, I fell head over heels. I was happy with him, even though we had no children."
---