Refuge faunique Marguerite-D'Youville
This 223-hectare wildlife reserve was granted permanent protection in 2010. The particular value of the site stems from the wide variety of ecosystems it contains: swamps, marshes, riverbanks, wildlands, maple stands and oak stands. Eight kilometres of trails have been laid, to the delight of nature lovers, families, bird watchers and photographers. A fee is charged to access the wildlife reserve and reinvested in maintaining the site and improving the facilities and services.
One of the appeals of this rich habitat is bird watching. Over 230 species of bird have been observed at this major migratory staging area, including the great blue heron, the city's official bird. Many mammal species also roam freely in the reserve, such as whitetail deer, which flock there in great numbers, roe deer and foxes. The flora is also rich and diverse, offering a variety of landscapes in the different ecosystems.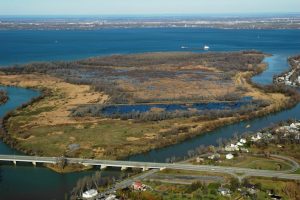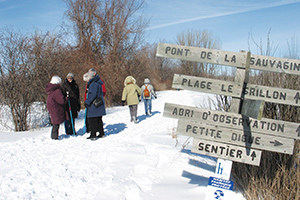 Hikers can enhance their experience with an audioguide that offers information about the history of the island and the flora and fauna that live there. The digital rally, designed for families, is a free mobile app that takes users on a fun and educational exploration of the site.
Summer and winter alike, the Refuge faunique Marguerite-D'Youville can be accessed through the Pavillon de l'île. It is open every day of the year, from sunrise to sunset. The trails are open to walkers and snowshoers, and no passage is permitted off the trails. Dogs and other domestic animals are also prohibited.
Refuge faunique Marguerite d'Youville website
Refuge faunique Marguerite d'Youville on Interactive Map
New policy on the annual access card
In order to streamline services, the presentation of the annual access card is required for all holders to access the wildlife refuge. If the card is lost or damaged, a new card will be issued and a $5 fee will be charged to the primar y cardholder ($2 for other family members in the case of a family card).
Benefits of the card:
Free access to the area for the entire year after only five visit s!
When possible, priority access in line.
Support for a conservation group.