Visual Identity
Châteauguay's visual identity is expressed through its logo and its emblems. They are the municipality's signature and attest to its heritage and history as well as its values.
Logo
The Châteauguay logo, used in all city communications, tells a story.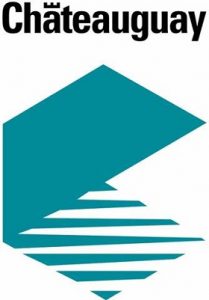 Colour
The colour turquoise symbolizes its green and blue spaces.
Shape
The hexagonal shape evokes both a building and an urban area reflected in its waterways (Rivière Châteauguay, Rivière Saint-Jean and Lac Saint-Louis).
In the shape of the first letter of the word Châteauguay, the logo represents the city's activity and vitality.
Tower crenellations, to honour and showcase the historic aspect of the city, stand in for the circumflex.
Emblem
As the emblem recalls the merger of three municipalities, it is not widely used; it only appears on the letterhead and some official city hall documents.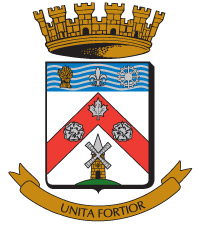 Motto
UNITA FORTIOR – strength united is stronger – is the motto that appears on the Ville de Châteauguay emblem.
Explanation of the parts of the emblem
The maple leaf, fleur-de-lys and crenellated crown represent the three levels of government.
The azure band with the wavy silver lines represents the waters of Rivière Châteauguay, Rivière Saint-Jean and Lac Saint-Louis
The red chevron symbolizes the protection of the seigneury's knights, recalling its historical background as a fortified outpost (1677–1689).
The cinquefoils come from the coat of arms of the Sieur Le Moyne and from the British coat of arms.
The green mound and windmill represent Île Saint-Bernard, which still boasts the stonework tower of one of the oldest windmills in North America (1686–1690).
The cross-shaped blades of the windmill recall the works of Marguerite d'Youville and, traditionally, the roadside cross (historic events of 1838).
The wheat sheaf and ship's wheel portray the wealth of the land and momentum toward the future.
Use
The Ville de Châteauguay logo is the exclusive property of the city. Its use in any form, in whole or in part, is prohibited without the written consent of the Ville de Châteauguay Direction des communications et des relations publiques.
For authorization or further information, please contact us:
You can call one of the following numbers:

450 698-3004

450 698-3017