Exhibitions and visual arts
Photo contest
"Châteauguay… what a story!" – 2020 edition
For the fifth year running, Châteauguay in partnership with the Maison LePailleur offers amateur and professional photographers the opportunity to share their citizen vision in a photo contest and outdoor exhibition.
The exhibition will be set up outside the old Maison Gravel to be displayed for the Journées de la culture and will continue until the end of November.  In addition, prizes will be awarded to three (3) outstanding photographers.
We are looking for photographs which illustrate the history of the city, showcase local people or breathtaking landscapes and places. The contest is first and foremost an exceptional platform to make your citizen voice be heard and share your experience and point of view.
Theme for 2020
NEW THIS YEAR: "View from the river", which is not looking for a contemplative view of Châteauguay River from the riverbanks, but to reverse the process and view the city from the river. The opening of the Centre nautique and the Pointe nautique this summer offers a great opportunity to get closer to the river and use this unique standpoint to get an exceptional vision of the city.
Contest dates:  Details to come for 2021
Exhibition dates: September 25 to the end of November 2020 at Espace Gravel, next to the Maison LePailleur (54, boulevard Salaberry Sud).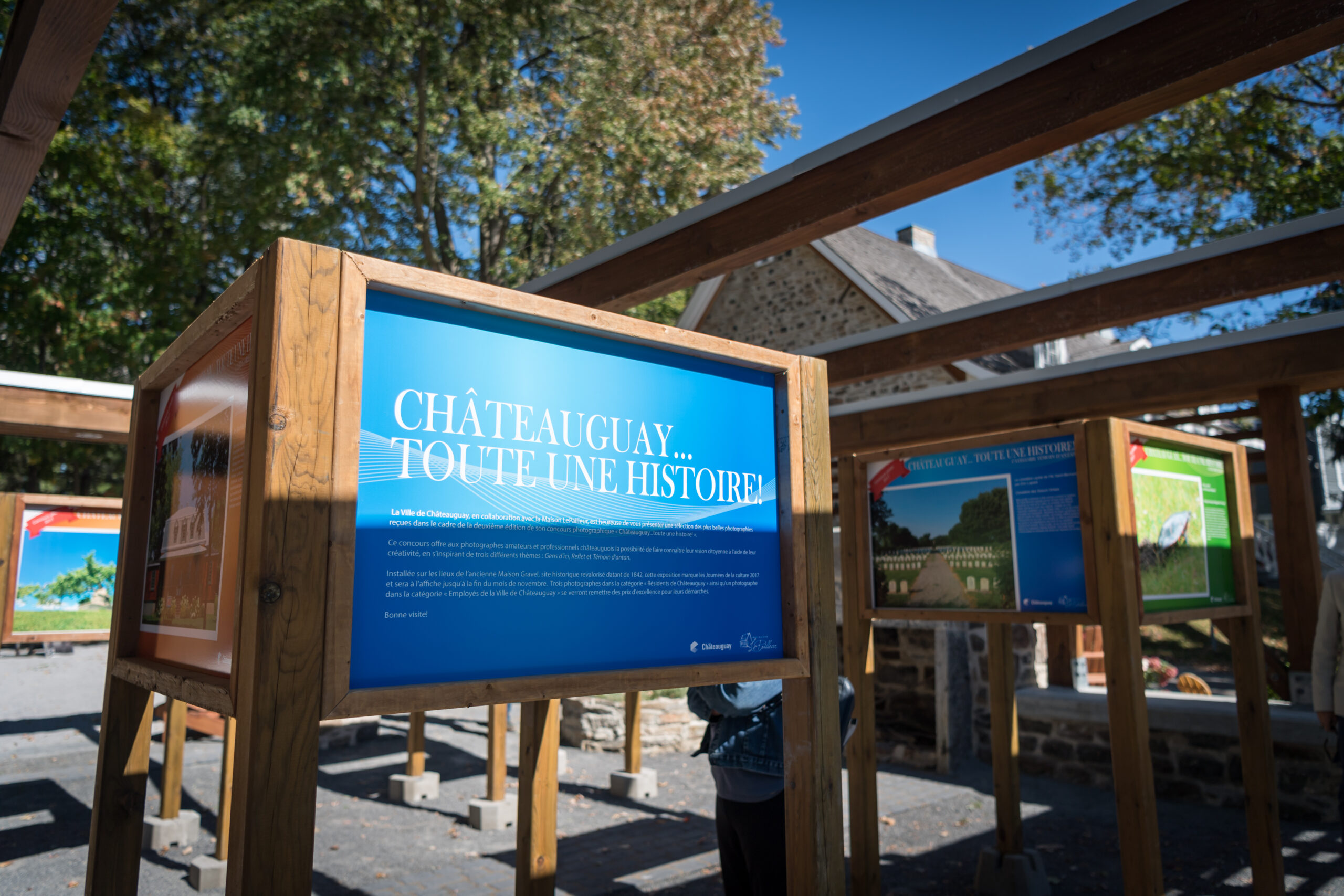 Aucun événement disponible
---
Contest rules 
The 2020 edition of the "Châteauguay… what a story!" photo contest is open to all Châteauguay residents and city personnel. This contest is for all photography lovers, whether you're an amateur, professional or semi-professional. Participants aged 18 and under at the time of the exhibition must obtain the consent of a parent or legal guardian.

Contest organizers, jury members and their immediate family members may not enter the contest.

Participants can submit at most two (2) colour or black and white photographs. The photographs and the registration form should be submitted online only. The registration form will be available online on June 21, 2020.

Library personnel can help participants fill in the registration form. You need to make an appointment in advance. To book an appointment, call the library help desk at 450 698-3078.

The city cannot be held liable for lost, incomplete, late or misdirected entries or any other problem when submitting an online application. The city also reserves the right to refuse entries if it has reason to believe that the submitted forms contain false statements.

Photographs must be sent electronically in high-resolution JPEG format (300 dpi, 5 megapixels minimum). Photograph size should be 8 x 10.  Submitted files should not exceed 20 Mo. Files must be clearly identified stating the title of the work and the artist's name

(e.g.: stonehouse_tremblay.jpg)

Photographs must be sent with a narrative text, as stated in the registration form, presenting the link to the theme for the contest to visitors (150 words maximum). Any photograph not attaching a narrative text will not be considered. Narrative texts will not be judged but will be displayed in the exhibition and may be edited.

A maximum of thirty-nine (39) photographs will be selected for the exhibition.

Selected photographs may be subject to format changes to meet layout requirements.

The winning photographs will be selected by a jury composed of one representative of the Ville de Châteauguay, one representative of the Maison LePailleur and one professional artist.  The photographs will be judged based on the following criteria: framing, technical quality, relevance of the subject, originality and overall appreciation. Photographs taken in a recognizable place in Châteauguay will be given special attention by the jury.  Please also note that the jury wishes to receive recent photographs, without any watermark or mark of any kind. The winners will be announced during the unveiling.

1st prize: $350

2nd prize: $250

3rd prize: $150

Only one prize may be awarded to each participant.

The jury reserves the right to award mentions and prizes.

Acceptance of the terms and conditions is mandatory and constitutes indefinite permission for free for Ville de Châteauguay to reproduce, use and show the photograph to the public in any way and on any medium whatsoever, and the participant's waiver of any form of recourse for violation of privacy, image rights, harm to reputation, libel or any other cause of action that may result from editing, reproduction, promotion, communication or distribution of the audiovisual production, and a guarantee granted by the participant confirming that the photograph is original, he or she took the photograph and he or she releases the Ville de Châteauguay from any proceedings that may be brought following the use, publication or display of the photographs. Such liability lies with the participant. The name of the photographer must be attached to his or her photograph at all times.

The participant confirms that he or she has obtained the consent of the individuals featuring in the photographs. Written consent will be required if the photographs are selected for the exhibition. The participant releases the Ville de Châteauguay, the Maison LePailleur and the Société du Musée du Grand Chateauguay (SMGC), which is running the contest, from any proceedings that may be brought following the publication of photographs submitted for the contest.

Such consent may be obtained by filling in the publishing consent and waiver form. (In french only)