Emerald ash borer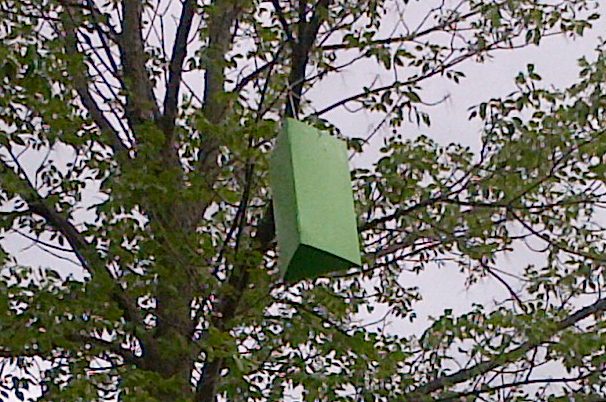 As is the case in many other cities in Québec and across North America, the emerald ash borer has become firmly entrenched in our territory, and Châteauguay is part of a large regulated zone. To combat this insect pest that propagates so quickly, many actions may be put in place by the entire population.
The ash borer is an invasive insect that attacks all known varieties of ash tree. It is a serious threat to the environment in urban and wooded areas because it has killed thousands of trees and risks infesting and killing even more. The insect affects the sap circulation system by feeding on the wood under the bark, which causes the tree to die in very little time. It poses no danger to human health, however.

It is a metallic green beetle measuring 8 to 15 mm (about 1/2 in.) long. The larva is white and may be up to 30 mm (1 in.) long.

Leaves and fruits

Leaves   5 to 15 cm long and composed of five to eleven leaflets with smooth or serrated edges. In the fall, ash leaves turn yellow and are among the first to change colour.
Branches  Ash trees have branches and leaves that grow in opposite directions.
Fruits  The fruits of ash trees are clusters of elongated greenish samaras (keys), often abundant and sometimes remaining on the trees in winter.

Size and bark:

Bark  The bark is recognizable by hard, intertwining ridges that form diamond shapes (white and red ash) or soft cork-textured ridges that become scaly with age (black ash). o Size: A mature ash is 15 to 20 m tall and of variable shape.
Size  A mature ash is 15 to 20 m tall and of variable shape.

Regrowth of young branches on the trunk and serious loss of foliage on the top.

Presence of tiny D-shaped holes on the bark of the branches or trunk and woodpecker holes on the branches or trunk; these birds love the ash borer larvae hidden under the bark.

Presence of S-shaped galleries under the bark, sometimes covered in fine brownish wood dust.

Every property owner is responsible for the trees on their own land. To find out whether a tree is infested with emerald ash borer, we strongly recommend calling a competent professional of your choice, such as a forestry engineer.

The city is responsible for all the trees on public lands.

Healthy or healthy-looking tree

Do you want to protect your symptom-free, healthy tree? There is a preventive treatment that consists of injecting an insecticide into the tree; the insecticide is picked up the sap and carried to all the parts of the tree, affecting the insects that feed on the sap.

In Canada, three insecticides are approved to treat the emerald ash borer: Confidor, Acecap and TreeAzin®.

Infested, symptomatic tree, 20–30% affected

It is still possible to have your tree treated to stop the insect from causing further damage, but the affected parts cannot be saved.

Infested, symptomatic tree, over 30% affected

Unfortunately, no treatment is possible, because the sap circulation system is too damaged. The only option is to have the tree felled and replace it.

If you decide to fell your tree, do not forget that you need a permit from the city. Go to the Trees (felling, cutting branches and planting) for further information.

Branches and other stalks no more than 1 cm in diameter and 60 cm long can be left out for the organic waste collection.
Châteauguay residents can bring trunks, stumps and branches more than 1 cm in diameter to the ecocentre for free.
Twice a year, the city holds a special branch collection as well as offering a branch pick-up service for a fee. Please see the Special waste collection section to learn about the options for disposing of your branches.
If you hire a contractor, make sure they chop the wood into chips 2.5 cm by 2.5 cm.

To replace lost trees, other species – such as elm, walnut and red maple – are recommended to encourage biodiversity.

Transporting firewood is a serious propagation factor. Since Châteauguay is in the regulated ash borer zone, it is prohibited to move firewood or ash products outside of the zone, which includes the Outaouais and a large part of southern Québec. That means it is crucial not to take fire wood camping or to the cottage outside this zone, at the risk of helping spread the ash borer into regions that are not yet infested.

Ville de Châteauguay has decided to work proactively to counter this insect. Since 2014, a variety of actions have been put in place, from installing dozens of traps in order to detect the presence of the insects to cutting down ash trees that are too affected to survive and treating healthy trees to protect them. The felled trees are replaced by other species resistant to our climate.
Do you need further details? Contact us!
You can contact us by phone at 450-698-3000

From Monday to Thursday, 8:30 a.m. to noon and 1:15 p.m. to 5:00 p.m.
Friday, 8:30 a.m. to noon

You can come to the reception desk at City Hall .

From Monday to Thursday, 8:30 a.m. to noon and 1:15 p.m. to 5:00 p.m.
Friday, 8:30 a.m. to noon