Garbage bins
MRC-compliant wheeled bins must be used for garbage collection. You must buy a bin from the retailer of your choice. The city and MRC de Roussillon do not supply garbage collection bins.
Except for bulky items or special waste collections, no garbage bag or other item placed next to the bin will be collected on collection day.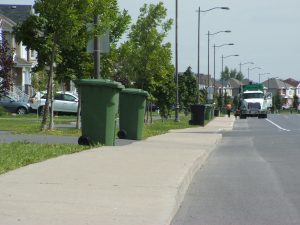 Put your bins out in the right way
Put the bin in the parking space near the street (the sidewalk, street and cycling path must be kept clear).
Turn the wheels to face your home.
Leave a space of 60 cm (2 ft.) around the bin.
Close the lid and do not place anything on top of the bin.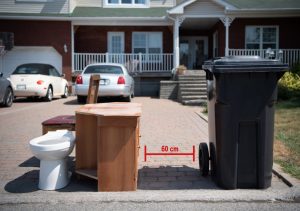 © MRC de Roussillon
MRC-compliant garbage bins
Wheeled bins with European grip (reinforced edge).
Accepted colours: black, grey or green
Features of a good quality bin
Important! Not all bins for sale are the same quality and MRC-compliant.
Your garbage bin must have:
Wheels measuring at least 20 cm (bins with bigger wheels are more stable)
Temperature resistance from – 40°C to 40°C
UV resistance
5-year minimum warranty
The retailer needs to have spare parts available in case of breakage.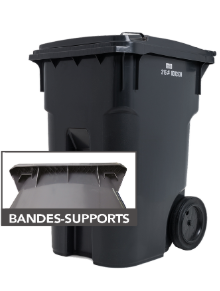 What format to get
You are free to choose the capacity of the wheeled bin. However, we recommend that you get a bin with minimum capacity of 240 litres.
To report a broken bin
Did your bin get damaged during the collection process? Request a bin repair!