Strategic planning – I'm involved!
The Ville de Châteauguay is undertaking its first major strategic planning exercise. The objective of this important reflection is to better understand the issues and the main needs of the community. The ideas that will emerge from this democratic exercise will help define the City's vision and values, as well as its major orientations, in addition to prioritizing the actions to be carried out over the next five years. This process will focus on economic and social development, the environment and governance.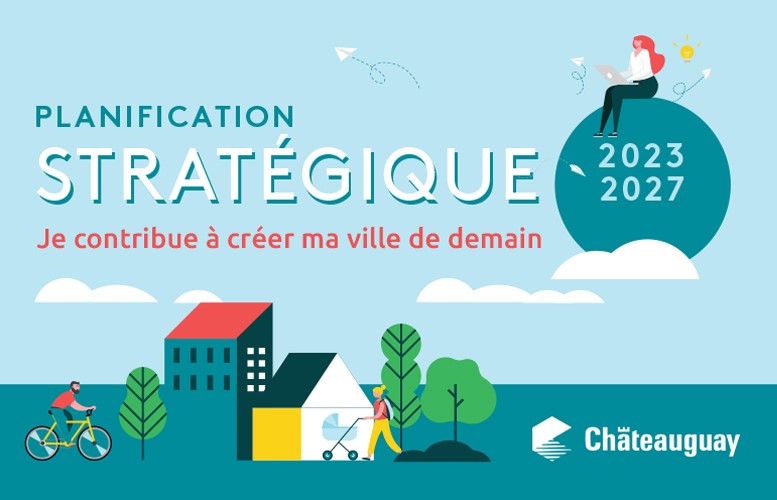 We want to hear from you!
In this process, the citizen's dimension participation has an important place. In concrete terms, over the next few months, citizens will be invited to express their wishes through various participation channels. It is with you that we will create the Châteauguay of tomorrow!
Accompanied by a consulting firm, the committee is composed of six members of the municipal administration and two elected officials.

Éric Allard, mayor
Marie-Louise Kerneis, Municipal Councillor, district de Salaberry
Karl Sacha Langlois, general manager
Diane Trahan, directrice de la vie citoyenne
Caroline Dumouchel, directrice des ressources humaines
Stacy Maignan, chef aux communications et soutien aux élus
Audrey Jacques, chef aux communications
Christine Arsenault, conseillère aux communications

April 2022

Launch of the process and creation of the steering committee

Spring 2022

Diagnosis: consultation with city partners and employees, collection of socio-economic data

August-September 2022

Citizen consultation: field survey, online survey, evening consultations with citizens on specific topics

Fall 2022

Development of the strategic framework: vision, mission, values and directions

Winter 2022-23

Adoption of the strategic plan and presentation to citizens

2023-2027

Implementation of the action plan

For more information, a detailed press release on the strategic planning is available on our website.

Didn't get a chance to share your opinion? You still can!

Two new citizen consultation evenings are offered:

For community organizations (sports and cultural): October 19 at 7 p.m. – In person at salle Jean-Pierre-Houde
Open to all: October 20 at 7 p.m. – In virtual format

Come and share your ideas with the population and let us know your opinion by participating in this consultation activity! Reserve your place :

In this process, the Ville de Châteauguay is consulting its citizens and wants to hear your priorities.

Ideas Collection

The ideas collection was held from September 12 to 25, 2022. Thanks to all citizens for participating.