Municipal Council
The municipal council is the legislative body of Ville de Châteauguay. It establishes the city's major orientations and ensures that services meet the needs of the population.
The municipal council meetings are public, and every citizen has the right to attend and speak at them. They are also broadcast live on Facebook and subsequently kept in the Council meetings section.
In general, the council:

determines orientations related to economic development, sustainable development, urban planning, drinking water supply, waste water treatment as well as recreational, leisure and cultural activities;
ratifies administrative decisions;
establishes municipal policies;
adopts municipal bylaws;
approves the budget and authorizes loans;
sets the tax rate.
Council members
In Châteauguay, the municipal council is made up of the mayor and eight councillors. Every councillor represents the citizens of their district when making decisions at council meetings. They also take part in community life and may serve on various committees, boards and municipal bodies.
These are the members of Châteauguay's municipal council for 2017–2021.
To find out the name of your councillor:
Electoral districts on the interactive map
---
On behalf of the municipal council, I want to welcome you to the Ville de Châteauguay website. I want to use this showcase to assure you that the municipal council intends to do everything possible to galvanize Châteauguay's economy and ensure the city takes its rightful place.   With its many natural jewels and urban setting, Ville de Châteauguay has everything it needs to delight its residents, business owners and workers and make them proud. As well as being close to downtown Montréal, it is a territory with extraordinary potential, easily accessible by Highways 132, 138 and 30. For families, seniors, nature lovers, sports fans, people interested in leisure or heritage, our city has a lot on offer: the Rivière Châteauguay, Île Saint-Bernard, the wildlife reserve, the Centre écologique Fernand-Seguin, performance halls, sports facilities and much more. Let's work together to restore the city's splendour, to create a healthy, dynamic and prosperous environment for living and working, a place that puts smiles on the faces of the residents, the business community and the city employees.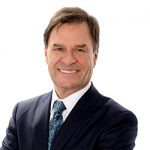 Pierre-Paul Routhier
Mayor