Éric AllardMayor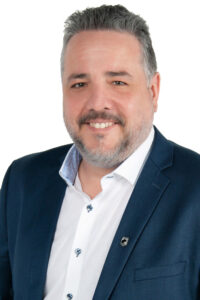 Éric Allard grew up, attended school, started a family and lives in Châteauguay. He is committed to his city and is determined to help it thrive. He has always been actively involved on many levels. In the education sector, he served as president of the École Saint-Jude governing board and then as commissioner and vice president of the school board for more than 18 years. In community and sports activities, he has organized and volunteered for the Opération Nez Rouge campaign, has sat on different boards of directors for non-profit organizations and has coached different sports.
His undeniable commitment to the community, his integrity, his support for transparency and his perseverance and authenticity led to his decision to take on the challenge of entering municipal politics in 2017, first as a municipal councillor and now as mayor. Now, more than ever, Mr. Allard firmly believes that his values are important for the development of the city.
With unparalleled pride in his city, he is deeply confident that its vibrancy and great potential will be able to fully emerge once a close collaboration is established between municipal council members and citizens, giving the city the place it rightfully deserves in the region.
Contact him
By phone
450-698-3007
By email