Pools (installation – inground, aboveground, portable or inflatable pools)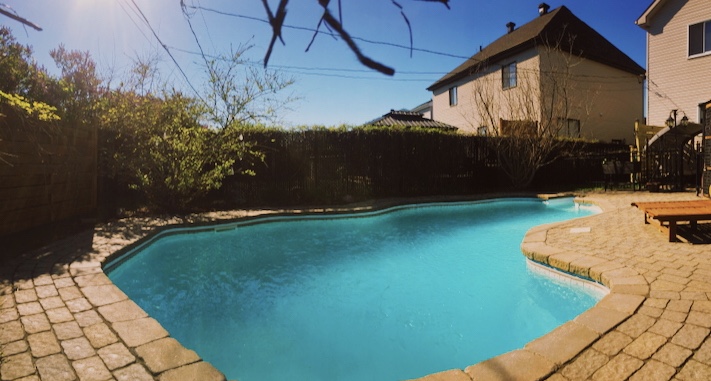 A variety of provincial and municipal standards govern the installation of pools of all sorts and the related accessories, to ensure the equipment is safe for the users. An installation permit is also required.
According to the by-law, a permanent or temporary basin to be used for swimming or other aquatic recreation with a water depth of at least 45 cm (1 ft. 6 in.) is considered to be a pool.
This means that the by-law applies to the following:
inground pools
semi-inground pools
aboveground pools
portable pools (with soft walls, inflatable or otherwise)
Applicable standards
LOCATION
Side or back yard.
If possible, avoid installing a pool under electric wires or telephone/television cables. If this is impossible, ensure that the wires are at least 5 m (16 ft. 3 in.) above the pool. Otherwise, the sides of the pool must be at least 1.5 m (5 ft.) away from the wires.
SERVITUDES
Pools cannot be placed in a servitude, unless otherwise authorized. It is your responsibility to determine the servitudes on your property.
MINIMUM DISTANCE
Pools (all types)
1.5 m (5 ft.) from all property boundary lines (A)
Building foundation
The distance between the pool walls and the foundation of any building must be equal to the depth of the pool and at least 1.5 m (5 ft.). (B)
A pool may, however, be closer to a building if an engineer certifies that its location will not weaken the solidity of the building and that the pool walls have been calculated taking into account the additional weight caused by the building.
The minimum distance from a garden shed must be at least 1.2 m (4 ft.). (C)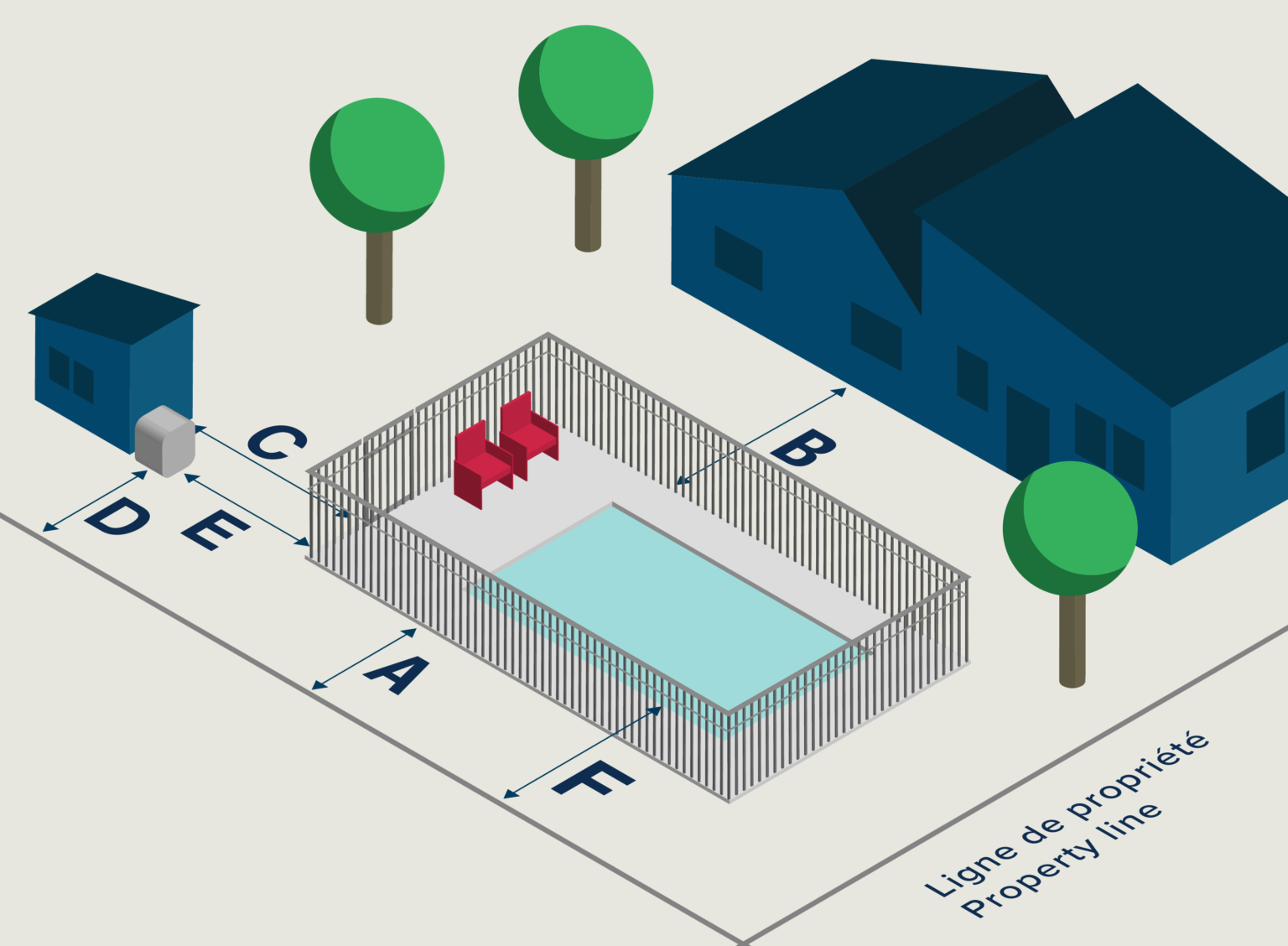 DEVICES RELATED TO POOL OPERATION (FILTRATION SYSTEM, HEAT PUMP)
Minimum distance
1.5 m (5 ft.) from all property boundary lines. If they are covered in a way that eliminates all sources of noise, a minimum distance of 1 m (3 ft. 4 in.) is permitted. (D)
1 m (3 ft. 4 in.) from the exterior wall of the pool or, if applicable, the exterior of the enclosure protecting the access to the pool. (E)
The conduits attaching the device to the pool must be flexible and cannot be installed in such a way as to allow the pool wall or fence to be climbed.
Exceptions
A device can be located less than 1 m (3 ft. 4 in.) from the pool or enclosure if it is installed:
Inside the enclosure, as long as it does not make it possible to climb it
Under a structure that prevents access to the pool from the device
In a garden shed
ACCESSORIES (SLIDE, LADDER)
Minimum distance
1.5 m (5 ft.) from all property boundary lines
Maximum height
WALKWAY SURROUNDING POOL
Minimum distance
0.5 m (2 ft.) from all property boundary lines (F)
The walkway must be covered in a non-slip material or surface that ensures the safety of the users.
INGROUND POOL
Diving board (minimum distance)
1 m (3 ft. 4 in.) from all property boundary lines
Ladder or stairway
All inground or semi-inground pools must have a ladder or stairway to enter or exit the water.
SAFETY AND ACCESS CONTROL
Access control
All pools must be surrounded by a construction that serves as a barrier to protect and limit direct access to the water, such as a fence, wall, safety rail or partition. This enclosure must:
Prevent the entry of a round object 10 cm (4 in.) in diameter
Be at least 1.2 m (4 ft.) tall
Have no components that make it possible to climb (member, attachment or opening)
Installation period
Temporary measures to control access to the pool must be put in place as needed for the entire duration of the installation work, provided that the work is completed within a reasonable time. A temporary barrier or fence at least 1.2 m (4 ft.) high must therefore be installed.
Not allowed
Hedges and shrubs do not constitute a sufficient enclosure.
If a wall is part of the enclosure, it must not have any openings that allow entrance.
For an inground pool, a fenced-in property does not provide sufficient access protection for the pool.
Door
In addition to meeting the same criteria as the enclosure, any door to the enclosed space must also be equipped with a security device that allows the door to close and lock automatically.
This mechanism, often comprised of spring hinges and a latch, must be installed on the inside of the door at the top, so it is not visible or accessible to children outside the barrier.
All structures designed to provide and prevent access to the pool must be maintained in good working order.
Exceptions 
Aboveground pools with walls at least 1.2 m (4 ft.) above the ground and portable pools with walls 1.4 m (4 ft. 6 in.) high or higher do not have to be surrounded by an enclosure if the pool is accessed in one of the following ways:
By a ladder equipped with a safety barrier that closes and locks automatically to prevent use by a child
By a ladder or from a platform the access to which is protected by a compliant enclosure
From a deck attached to the residence and constructed in a way that the part that opens on the pool is protected by a compliant enclosure
SANITATION
The pool water must be kept clean, free from dirt and not release any nauseating smell due to uncleanliness during the entire period of use.
LIGHTING
The installation of a lighting system for an outdoor pool is only authorized if the electrical supply is underground or from inside the building.
FILLING POOLS
The filling of pools is governed by certain standards related to water use.
EXCEPTIONS
Particular standards may apply to properties located:
On a street corner (corner lot)
In a flood zone or shoreline protection zone (for properties near waterways)
If in doubt, please check with the Division inspection et permis.
An administrative codification is a document that combines the original text of a by-law with all the amendments made since its adoption. It has no legal weight. It is rather a tool created solely to make it easier to read and understand the by-law as a whole. Only the original by-law and its amending by-laws have legal weight.
Do you need further details? Contact us!
By calling :

450 698-3000

From Monday to Thursday, 8:30 a.m. to noon and 1:15 p.m. to 5:00 p.m.
Friday, 8:30 a.m. to noon

You can come to the reception desk at City Hall located at 5 Boulevard D'Youville .

From Monday to Thursday, 8:30 a.m. to noon and 1:15 p.m. to 5:00 p.m.
Friday, 8:30 a.m. to noon
---
LEGAL DISCLAIMER
The texts and administrative codifications presented on this site do not replace the official by-laws of Ville de Châteauguay. They have no official weight. Although we make every effort to ensure that all the information is accurate and complete, we cannot guarantee its integrity, or that the information is current or accurate. In case of a discrepancy between the official text and the information published on this site, the official text always takes precedence. Ville de Châteauguay cannot be held responsible for errors or omissions of any nature on the site.