Speed limit
In summer 2020, after public requests and an in-house survey, the municipal council voted to lower the speed limit from 50 km/h to 40 km/h on all local residential streets.
Applicable standards
In practical terms, this means that the speed limits are now as follows:
30 km/h: School zones, around parks and hospitals and on routes that offer a panoramic view of the Rivière Châteauguay – namely, Boulevard D'Youville, Boulevard Salaberry Nord and Sud, and Chemin de la Haute-Rivière to Rue Primeau
40 km/h: Residential streets and certain side streets
50 km/h or over: Boulevards and main arteries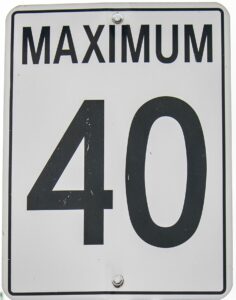 To find out the speed limits applicable in the area, just click on the map below: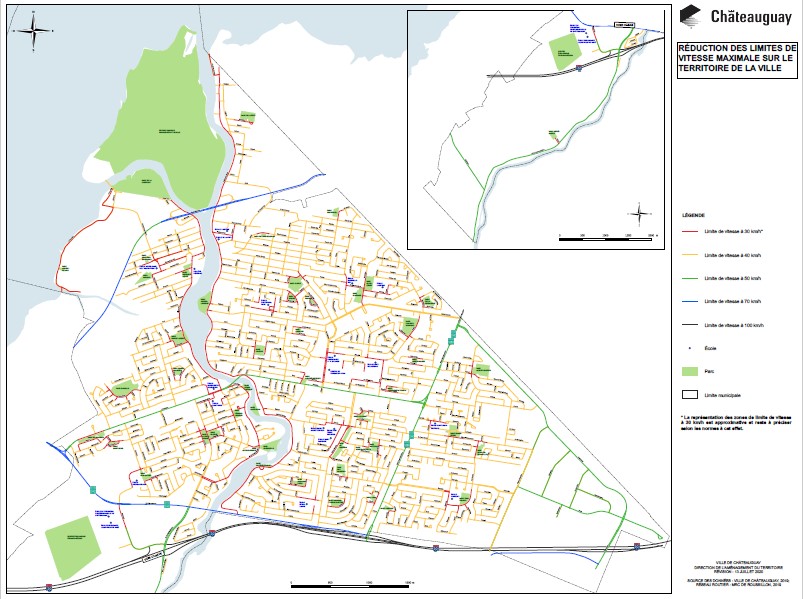 The purpose of this speed reduction measure is to:
Reduce the risk of fatal accidents and the severity of injury for the most vulnerable road users, such as pedestrians and cyclists of all ages, young children and people with reduced mobility, as the likelihood of death for a pedestrian struck by a vehicle travelling at 50 km/h is 70% while it is only 25% for a vehicle travelling at 40 km/h.
Increase the public's sense of security.
Reduce the nuisance of road noise.
To report any problem related to traffic or road safety, such as people driving through stop signs or failing to comply with the speed limit, you can contact the Service de police in one of these ways:

You can send an email to :

You can contact us by calling:

450 698-1331, option 5.
An administrative codification is a document that combines the original text of a by-law with all the amendments made since its adoption. It has no legal weight. It is rather a tool created solely to make it easier to read and understand the by-law as a whole. Only the original by-law and its amending by-laws have legal weight.
Do you need further details? Contact us!
You can contact us by phone at 450-698-3000

From Monday to Thursday, 8:30 a.m. to noon and 1:15 p.m. to 5:00 p.m.
Friday, 8:30 a.m. to noon

You can come to the reception desk at City Hall .

From Monday to Thursday, 8:30 a.m. to noon and 1:15 p.m. to 5:00 p.m.
Friday, 8:30 a.m. to noon
---
LEGAL DISCLAIMER
The texts and administrative codifications presented on this site do not replace the official by-laws of Ville de Châteauguay. They have no official weight. Although we make every effort to ensure that all the information is accurate and complete, we cannot guarantee its integrity, or that the information is current or accurate. In case of a discrepancy between the official text and the information published on this site, the official text always takes precedence. Ville de Châteauguay cannot be held responsible for errors or omissions of any nature on the site.