Temporary car shelters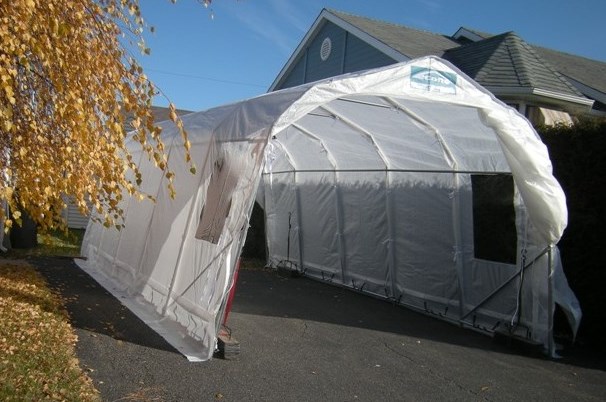 Temporary car shelters, often called Tempos, are authorized in Châteauguay during the winter.
Although no permit is required to put up a car shelter, some rules nevertheless apply.
Applicable standards
AUTHORIZED PERIOD
Temporary car shelters (and their supporting structure) are authorized only during the winter.
Installation date: October 15 at the earliest
Removal date: April 30 at the latest
MAXIMUM NUMBER
A single shelter per lot for single-family dwellings, duplexes and triplexes.
LOCATION
Lane leading to parking spot or garage
Front, side or back yard
MINIMUM DISTANCE
Boundary lines (A)
Front yard (B)
2 m (6 ft. 6 in.) from the road pavement (if there is a curb)
2.5 m (8 ft. 2 in.) from the road pavement (if there is a sidewalk)
3 m (9 ft. 10 in.) from the road pavement (if there is neither curb nor sidewalk)
1 m (3 ft. 4 in.) from a bicycle path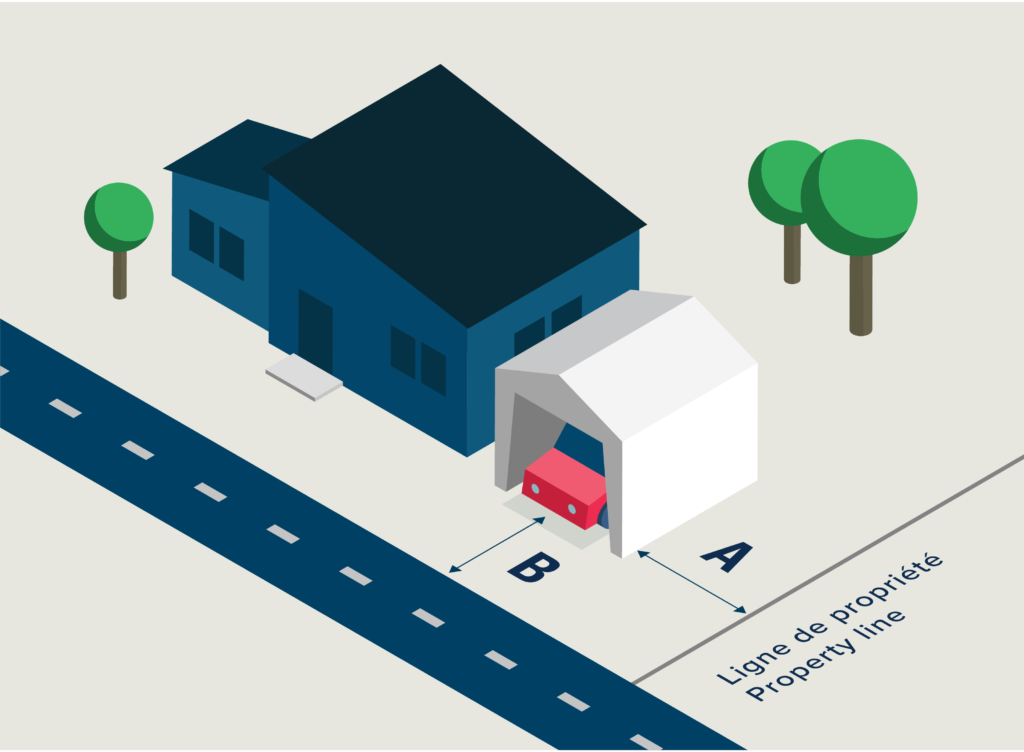 MAXIMUM HEIGHT
4 m (8 ft.)
One storey maximum
MAXIMUM AREA
40 m2 (430 ft.2) per dwelling unit
STRUCTURE
Dismountable metal tubing
Construction solid enough to support pressure of 200 kg/m2
COVERING
Authorized
Canvas, synthetic canvas, polyethylene 6 mm or thicker or any similar material
Uniform colour, with no holes, kept in good condition
Not authorized
Cardboard, linoleum, polyethylene less than 6 mm thick, tar or mineral paper, unenamelled sheet metal or any similar material
ADDITIONAL INFORMATION
There must be a residence on the lot where the temporary car shelter is installed.
The shelter must only serve as a parking space for motor vehicles during the winter. It cannot be used as a storage space.
An administrative codification is a document that combines the original text of a by-law with all the amendments made since its adoption. It has no legal weight. It is rather a tool created solely to make it easier to read and understand the by-law as a whole. Only the original by-law and its amending by-laws have legal weight.
Answers to your questions
No. The metallic structure cannot be set up before October 15.

No. No heating systems are permitted for temporary car shelters.
Do you need further details? Contact us!
By calling :

450 698-3000

From Monday to Thursday, 8:30 a.m. to noon and 1:15 p.m. to 5:00 p.m.
Friday, 8:30 a.m. to noon

You can come to the reception desk at City Hall located at 5 Boulevard D'Youville .

From Monday to Thursday, 8:30 a.m. to noon and 1:15 p.m. to 5:00 p.m.
Friday, 8:30 a.m. to noon
---
LEGAL DISCLAIMER
The texts and administrative codifications presented on this site do not replace the official by-laws of Ville de Châteauguay. They have no official weight. Although we make every effort to ensure that all the information is accurate and complete, we cannot guarantee its integrity, or that the information is current or accurate. In case of a discrepancy between the official text and the information published on this site, the official text always takes precedence. Ville de Châteauguay cannot be held responsible for errors or omissions of any nature on the site.