New speed limits in effect this fall
Published on 29 September 2020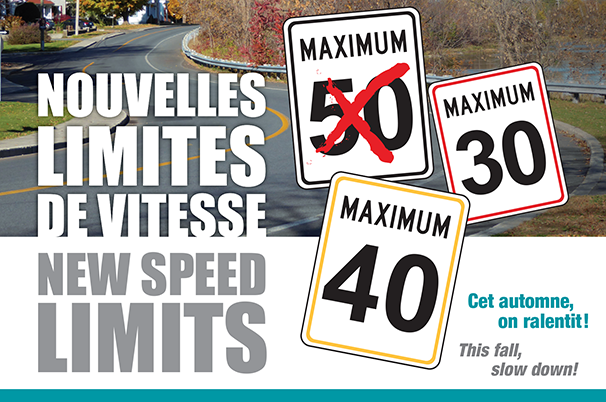 This fall, new speed limits come into effect in Châteauguay, going from 50 km/h to 40 km/h in residential streets.
On waterfront streets such as D'Youville and Salaberry boulevards, as well as part of chemin de la Haute-Rivière (from rue Principale to boulevard Primeau), the speed limit will be 30 km/h, the same as near schools and playgrounds.
This speed reduction measure follows repeated requests from many citizens. Welcomed by the members of the City Council, this change reduces accident risks and the severity of injuries given that the likelihood of the death of a pedestrian hit by a vehicle is 70% at 50 km/h, while it is 25% at 40 km/h.
In addition to reducing the impacts of speed on road safety, this change is also intended to increase the feeling of safety of pedestrians and cyclists, to decrease noise pollution due to traffic and to change the attitude of drivers related to their own speed.
New road signs and transition period
In the coming weeks, our teams will begin the installation of new road signs to indicate the new speed limits in each sector. Our website will be updated as the work progresses.
Once the new road signs are installed, awareness-raising operations will take place in collaboration with the police service to inform the population. A transition period is planned in order to accustom motorists to this major change.
To find out the new speed limit in your area, just click on the map below: