Organic waste bins
Only brown bins are accepted. 
Châteauguay supplies brown bins for free.
Put your bins out in the right way
Put the bin in the parking space near the street (the sidewalk, street and cycling path must be kept clear).
Turn the wheels to face your home.
Leave a space of 60 cm (2 ft.) around the bin.
Close the lid and do not place anything on top of the bin.
It is prohibited to:
use your brown bin as a garbage bin;
deliberately alter the bin.
Are you moving? Leave the bin! The brown bin is the property of the city and must stay at the address where it was delivered.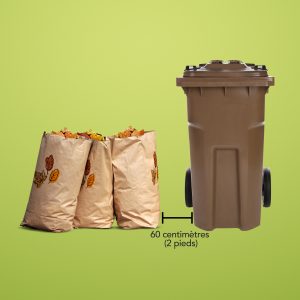 © MRC de Roussillon
To report a broken bin
Did your bin get damaged during the collection process? Request a bin repair! 
To request a bin
Have you moved? Has your bin been stolen? Do you want an extra bin? Request a bin!