Service de police de Châteauguay
Protect and Serve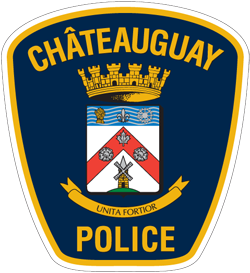 Access to information request
The Service de police is subject to the Act respecting Access to documents held by public bodies and the Protection of personal information. Under this law, every person has the right to:
Access documents held by the Service de police, subject to the applicable restrictions and exceptions.
Be informed of personal information about them held by the Service de police.
Correct personal information about them if it is inaccurate or incomplete or if the Act does not authorize the information to be collected, released or kept.
The Act applies to documents that the police service has in its possession, in any form: written, graphic, audio, visual, computerized or other. These documents include:

Call cards
Event reports
Accident reports
Certificates from qualified technicians
Any other document

Restrictions on right of access

Despite the foregoing, the police service may, for reasons stipulated in the Act, refuse full or partial access to a document when its disclosure could affect the administration of justice or public security. For example:

Hamper an investigation
Reveal investigation methods
Endanger someone's safety
Cause prejudice to the person who is the source or the subject of the information

All files concerning a violent or unnatural death are subject to a coroner's investigation. The police service cannot transmit copies of its report because only the Chief Coroner can communicate a police report appended to a coroner's report.

A request for access must therefore be addressed to the coroner's office at:

Chief Coroner
Édifice Le Delta 2, Suite 390
2875, boulevard Laurier
Québec City (Québec) G1V 5B1

Accident report

For a copy of an accident report, you can contact your insurance company to apply on your behalf.

Documents held by the Service de police

ou can file an access to information request using this form or submit a written request containing the following information:

The first and last name and contact information of the person filing the request
An exact description of the document requested (title, author, subject, target date or period, service concerned)
Preferred consultation method (in our offices or to receive a copy by mail or email)

You can send us the request in one of the following ways:

By email

to:

document@police.chateauguay.ca

In person or by mail

Responsable de l'accès à l'information
Service de police de Châteauguay
55, boulevard Maple
Châteauguay (Québec)  J6J 3P9

Documents held by Ville de Châteauguay

For access to information requests concerning documents held by Ville de Châteauguay, please go to the city's Access to Information page.

The Act allows for a response time of 20 days after receipt of the request and for an extension of an additional 10 days if notice is given to the applicant.

Onsite consultation of documents is free and must take place during office hours:

Monday to Thursday, 8:30 a.m. to noon and 1:15 p.m. to 5:00 p.m.
Friday, 8:30 a.m. to noon.

A fee is charged for copies.

If you request documents that may contain personal information about another person, their duly signed written consent must be included with your request or subsequently submitted to the Service de greffe by email or mail.

This consent must be sufficiently detailed with regard to the documents in question and the identity of the person or organization authorized to consult the documents and it must be dated recently.