Service de police de Châteauguay
Protect and Serve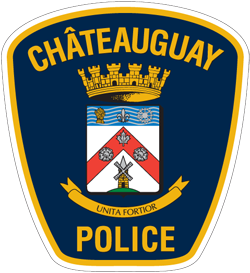 Road Signs and Safety Complaint
You can report any recurring problem related to road safety or any suggestion about road signs (stop sign installation, speed bumps, etc.) to the Service de police.
Be certain you can provide the following information about the incident, as you will be asked for it:
Full contact information of the complainant (first and last name, address, phone number and email address)
Type of incident
Date and time of incident
Location of incident (i.e., street, park)
Frequency
Description of the vehicle (make, model, colour, number of doors, licence plate, distinctive signs such as stickers, colour of rims, etc.)
Any other detail about the incident that could help the police, including photos and videos
Please report it to us one of the following ways.
By calling the Service de police at 450-698-1331, option 5.

By sending an email to:

You can also attach a video or photo to your email if you think it could be helpful.