Shows – Château Scènes
Official multi-disciplinary distributor in performing arts

Humor and variety | Show performed in French only
Philippe-Audrey Larrue-St-Jacques – Hélas ce n'est qu'un spectacle d'humour
Friday, June 18, 2021 - 7 p.m.
Price

Member (Passeport-loisir)*: $32

Regular: $34

$2.50 service charge included.

* To benefit from the $2 discount, holders of valid Passeport-loisir must activate their member profile by contacting the ticket office for the first time at 450-698-3100.
Please note that wearing a mask will be mandatory at all times. Tickets will be allocated with a distance of 2 metres between each individual or family bubble.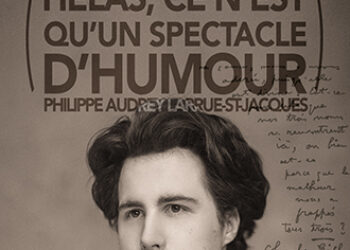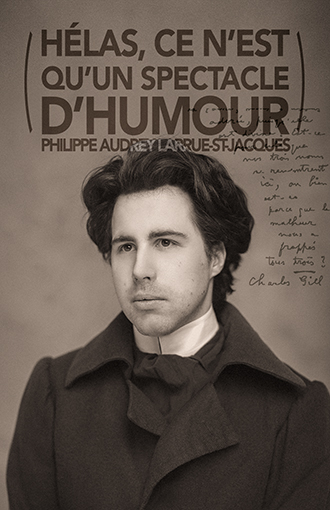 « Déception, nf : Fait d'être déçu; sentiment pénible causé par un désappointement, une frustration; qui ne répond pas à ce que l'on attendait »
C'est pas mal ça mon domaine d'excellence! Produit d'une vieille famille bourgeoise élitiste, de parents professeurs d'université et d'un milieu où les mots « patcher mon char su'l quart de mile » n'ont jamais été prononcés, j'ai reçu une éducation privée et étudié les plus grands auteurs au Conservatoire pour jouer dans les plus grands théâtres. Et aujourd'hui… je fais de l'humour… C'est peut-être pour ça qu'on me disait toujours : « Tu es comme une croisière de baleines à Tadoussac! Peu importe nos attentes, tu trouves toujours un moyen de décevoir! » Bref, je vous avoue humblement avoir un génie pour la déception! Avec chance, peut-être échapperez-vous à mon génie.
Suggestions
Neuf

After Un, Deux, Trois, Ils étaient quatre, Cinq à sept and Huit, Mani Soleymanlou presents Neuf [titre provisoire] with…

Show postponed to Friday, February 18, 2022 – 8 p.m.(originally scheduled for Thursday, March 26, 2020)

Mariana Mazza

Mariana Mazza's second show is called Impolie and to respect the title, she won't describe…

Show postponed to Wednesday, February 9, 2022 – 8 p.m.(originally scheduled for May 29, 2020)Show postponed to Thursday, February 10, 2022 – 8 p.m.(originally scheduled for May 30, 2020)