Lighting and Streetlights
Streets and parks are lit for everyone's safety. If you notice a problem related to street or park lights, please report it to us :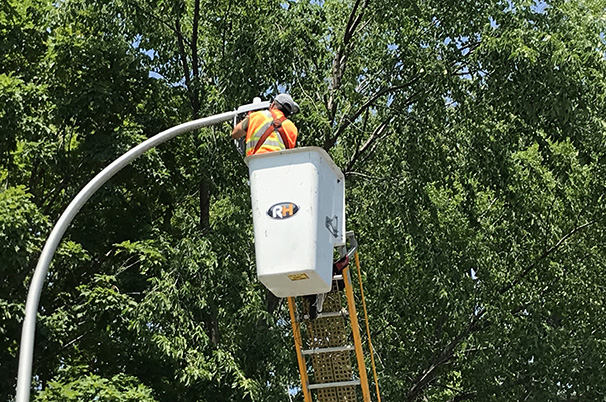 To help us quickly locate the defective street light, please provide the address or closest intersection.
Repair work on street lights and bulb replacement are carried out by the contractor who is hired when the number of problems justifies the work, about once every two weeks.
The most common type of problem is a burnt out light bulb. Another common problem is an incorrect lighting cycle, which means that the street light is blinking or going on and off at random. A few other types of problems include street lights that do not turn off during the day, damaged lampposts or a series of street lights that do not turn on.

In 2020, the city replaced about 3,800 low-pressure sodium street lights with LED lighting (light-emitting diodes). This type of lighting offers the city significant savings because it consumes far less energy and the bulbs have a lifespan about five times as long, which reduces maintenance costs.

The bulbs were changed in the street lights on wooden lampposts and steel "cobra" lampposts, which represent about 80% of the municipality's street lights. The decorative lampposts were not included in the conversion.