Branch collection
The city usually organizes two branch collections every year in spring and fall.
Branch collection
Citizens who wish to use the collection service will have to place their branches at the curb in all neighborhoods.
Branch collections generally last a minimum of 3 weeks but could last longer. During this period, municipal employees will cross the whole territory to collect branches.
Residents will be regularly kept up-to-date on the progress of the branch collection on our Facebook page and this section of our website.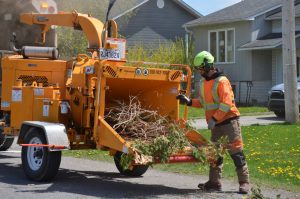 Branch collection – Fall 2022
The next branch collection on the territory will begin on Tuesday, October 11.

Citizens who wish to dispose of their branches are invited to place them at the curb no later than Monday, October 10, respecting a few instructions that will facilitate the collection.

The branch collection on the territory of the city is now complete.

UPDATE: Wednesday, November 2, 3:35 p.m.
District 1 – de La Noue
Completed
District 2 – du Filgate
Completed
District 3 – de Robutel
Completed
District 4 – de Bumbray
Completed
District 5 – de Salaberry
Completed
District 6 – de Lang
Completed
District 7 – de Le Moyne
Completed
District 8 – D'Youville
Completed
How to place branches
To make branch collection easier, branches must:
enable unobstructed access to the public road and sidewalk;

be placed with the trunk facing the street at the curb and not be tied up together;

not be wider in diameter than 10 cm (4 in.);

not be longer than 3 m (10 ft.);

branches with thorns must be marked and separated from the other branches (e.g., honey locusts and hawthorns).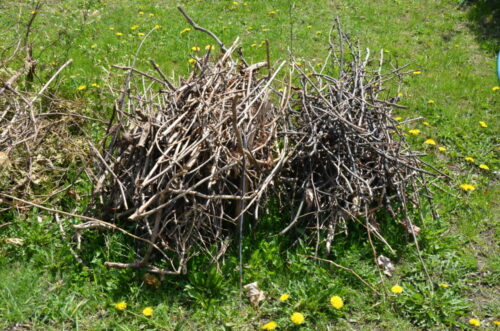 We do not collect:
Tree stumps and logs
Branches with soil clods
Vines and yard waste
Wooden boards
Intertwined branches
Felled trees and excessive quantities of branches exceeding a volume of 4 m3 (1.25 m X 1.25 m X 2.6 m), the equivalent of a small trailer of 10 feet long and 4 feet high.
Additional charges applied if a volume exceeds 4 m3 
If piles of branches placed at the curb exceed 4 m³, the collection team will note the address and continue its route. In the following days, the resident will be informed of the rate based on the volume of the branches: $35 + tax for each additional volume of 4 m³. The branches will be collected once payment has been made.
Did you miss the collection?
Citizens who wish to get rid of branches in bulk can also :
Contact us to request individual branch collection at your home. Please note that we apply a $35 plus tax fee for this type of collection;
Dispose of their branches at any time at the Châteauguay ecocenter.
You can contact us by phone at 450-698-3000

From Monday to Thursday, 8:30 a.m. to noon and 1:15 p.m. to 5:00 p.m.
Friday, 8:30 a.m. to noon