Bulky Items
Bulky items include furniture and items that are bigger than the garbage bin which cannot be crushed or dismantled.
They are collected on the same day as the garbage collection, but in a different truck. It is therefore possible that your bulky items are not collected at the same time as your garbage bin.
Here are various categories of items that are accepted: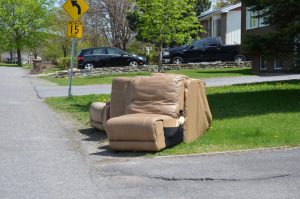 all types of furniture: desks, mattresses and bed frames, sofas and armchairs, toilet tanks, child car seats;

large home appliances (except cooling appliances)*: (ovens and stoves, washing machines, dryers, etc.);

ferrous materials: furnaces and tanks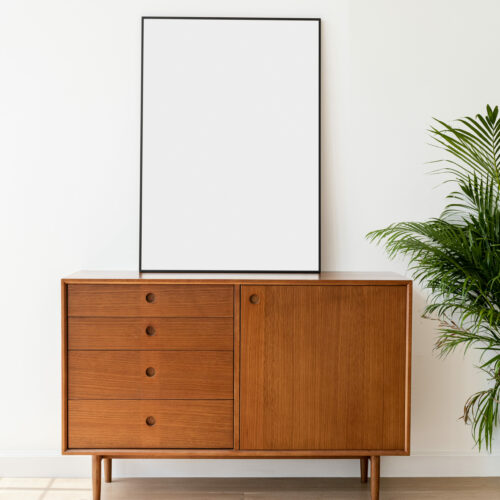 * Refused items
The following items will not be collected during the bulky items pick up:
Cooling appliances (refrigerators, freezers, air conditioners, water and wine coolers) contain freon which is harmful to the environment;
Electronics;
Garbage bags;
Construction, renovation, and demolition waste (wood, plasterl, construction materials);
Tires and auto parts;
Household hazardous waste (HHW) like propane cylinders, chlorine tanks, paint containers, etc.
Most of these items can be brought to the ecocentre ; or another drop-off point. For more information on how to get rid of a specific item, please consult our What to throw where guide.
Think about donating for reuse!
If your bulky items are still in good condition, you can also contact one of the donation centres in the region to get rid of them.
How to place bulky items
Bulky item pick up will be on the same day then the garbage: put them on the curb before 7 a.m. on the day of the pick up.
Bulky items must be easily accessible on the curb (no vehicles parked in front of them).
Allowed items must be put next to the garbage bin while respecting a distance of 60 cm (2 feet) around the bin and between each bulky object.
Bulky items must be easily manipulated by two people and must be free of nails, screws and any sharp edges to allow safe manipulation.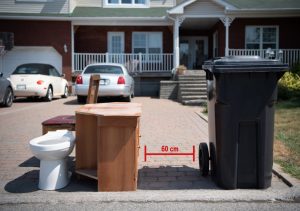 ---
Bulky items collection for buildings serviced with dumpsters
If you live in an appartment or condo that is serviced with a dumpster for your garbage, an agreement was made with the MRC de Roussillon so they can pick up your bulky items that are to big to fit in your building's dumpster and that can't be compressed or broken down.
Pick up calendar
Bulky items pick up is done every two weeks at the same time as door-to-door garbage and bulky items pick up, depending on which sector you live in. To know which sector you belong to for garbage pick up, please consult the Collection Schedules – Organic Waste, Recycling and Household Waste.
Putting the big guys out the right way
Put your bulky items out before 7 a.m. on collection day.
Set them by the side of the road next to the entrance to your building's parking lot without blocking the sidewalk, street or bike path.
Bulky items have to be by the side of the road and easy to get to (no parked cars in front of them).
Line them up side by side, 60 cm (2 feet) apart.
Private streets and residential complexes
Waste-collection trucks are not allowed to enter private parking lots or streets. Put your bulky items by the side of a main public road.
Attention! Bulky items won't be picked up if :
There are too many of them or they're too big;
They're not set out properly by the side of the street (don't pile them on top of each other) and 60 cm (2 feet) appart;
They're not reachable from the street (e.g. there's a parked car in the way);
They have nails, screws, or sharp edges;
They are among the objects that are refused;
They're too big, heavy, or awkward for two workers to handle;
They're put out after the collection truck goes by (anytime between 7 a.m. and 7 p.m.)