Natural Christmas Trees Collection
Every year, the city organizes free natural Christmas tree collection at the beginning of January.
Date of the next collection
The collection of Christmas trees will begin on Monday, January 9, throughout the territory and will take place over a few weeks
Christmas tree must be placed at the curbside.
How to place Christmas trees
To be collected, your tree must:
have all decorations removed;
be placed with the trunk facing the street at the curb;
enable unobstructed access to the public road and sidewalk.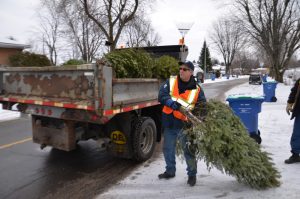 The collection of Christmas trees on the territory of the city is now complete. If you missed the collection, check out the two options available.

UPDATE: Thursday, January 19, 10:15 a.m.
District 1 – de La Noue
Completed
District 2 – du Filgate
Completed
District 3 – de Robutel
Completed
District 4 – de Bumbray
Completed
District 5 – de Salaberry
Completed
District 6 – de Lang
Completed
District 7 – de Le Moyne
Completed
District 8 – D'Youville
Completed
Did you miss the collection?
There are two options:
You can leave your tree on the side of your house or in your backyard during the winter, then put it at the curbside during the next spring branch collection;
You can cut the branches from your tree and place them in your compost bin.