Natural Christmas Trees Collection
Every year, the city organizes free natural Christmas tree collection at the beginning of January.
Date of the next collection
The next Christmas tree collection will start early January 2022.
How to place Christmas trees
To be collected, your tree must:
have all decorations removed;
be placed with the trunk facing the street at the curb;
enable unobstructed access to the public road and sidewalk.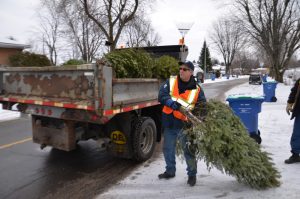 Did you miss the collection?
Please note that Christmas trees are no longer collected with the usual garbage collection. If you miss the special collection, you should take your tree to the ecocentre .