Surplus of dead leaves and other green waste
You can deposit your dead leaves, cut grass, yard waste and weeds in your brown bin. If your green waste does not all fit in your brown bin, you can dispose of it at any time in paper bags next to your bin on collection day. Only paper bags are permitted for organic waste collection. Note that plastic bags and other containers are not collected.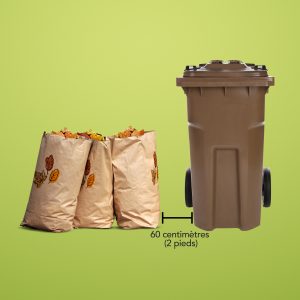 For your bags to be collected,  your brown bin needs to be placed at the curb on collection day. Since some trucks cannot be loaded by hand, drivers may have to place leaf bags in the brown bin in order for collection to take place. Also, leave a space of 60 cm (2 ft.) between your bags and the brown bin.
Please note that with the introduction of organic waste collection, the Special Leaf Collection, formerly offered by the City, is no longer in effect.
Leaf mulching and grasscycling
You can also directly recycle your green waste and leaves at home in the following ways:
Leave grass on the lawn when you mow (grasscycling).
Shred dry leaves using the mower (leaf mulching) that have fallen on the ground.
Use your green waste as mulch.
Compost your green waste.
There are many benefits of grasscycling and leaf mulching:
Improving the quality of the lawn.
Increasing the resistance of the lawn to drought and disease.
Supplying natural fertilizer and nutriments to the lawn.
Reducing water and pesticide consumption.
Reducing time spent on lawn upkeep.