Explanation of the Tax Bill
Do you have questions about your tax bill? You will find a model tax bill below, along with a series of definitions to help you understand it.
Tax bills are mailed to owners registered in the assessment roll at the beginning of January each year.
---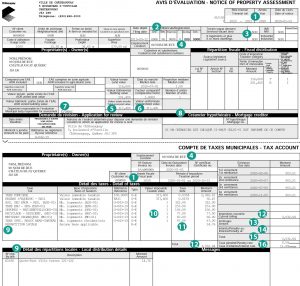 ---
1
Taxation year
2
Registration
Unique number assigned to your property
3
Building categories
Categories identifying the type of your property. A "no" in every category means a "Residential" building.
4
Address of the assessed unit
5
Total assessed value 
Property value according to the municipal assessment roll
6
Standardized value
Result of the assessment roll value multiplied by the standardization factor set by the Ministère des affaires municipales et occupation du territoire in order to make all municipal assessments comparable.
7
Municipal body responsible for assessment
External appraiser
8
Mortgage creditor 
Name of the mortgage creditor that pays your municipal taxes, if applicable.
9
Local distribution 
Taxes used to repay loans taken by the municipality to finance infrastructures such as sewers, water mains and roads in a particular sector.
10
Taxable value
Taxable value used as the basis for the calculation of the property taxes and miscellaneous fees.
11
Rate
Property tax rate, based on building category and cost of services provided.
12
Total
Amount of taxes for the taxation year shown in item 1.
13
Arrears
Outstanding balance of prior transactions on the date of the first instalment of the current tax bill.
14
Interest/Penalties
Amount of interest and penalties on the outstanding balance (arrears), to be paid with the first instalment.
15
Total
Amount payable, including taxes for the year shown in item 12, arrears and interest/penalties at the time of the first instalment.
16
Penalty rate
Interest and penalty rate applicable to any outstanding balance on the due date.
17
Reference no.
To make your payment, you must provide the reference number shown at the top of each remittance coupon.